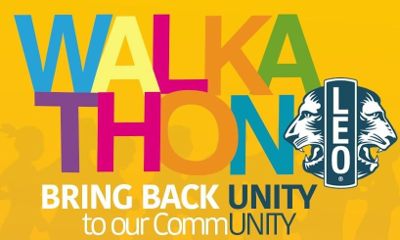 PHILIPSBURG:--- The St. Maarten Leo Club, the youth/young adult division of the Lions Club, will host a walk-a-thon on Sunday, September 23rd under the theme "Bring Back Unity to Our Community." The walk-a-thon is free for every one of all ages.
The meeting point in front the of Lion's Civic Center in Sucker Garden (next to Sol Gas station) at 5:00 am. At 5:15AM the gathered group will have a warm up Zumba session by Learie Hall to "really wake us up and get us moving," the club stated in a press release. "At 5:30AM we will start our walk around town. After our walk a small breakfast will be served to build you back up to continue to the work on building your own community (delicious johnny cakes will do the job). When you leave from the walk, ask your neighbor how they are doing. It's always a great feeling to help out and give back."
Looking back over the past year, the members of the Leo Club recalled how the entire community pulled-together in the wake of hurricane Irma. They reminisced on how young people helped their parents in the recovery process and how they went out of the way to help their neighbors.
"As a service club, we want to encourage communities to bring back that unity that was so prevalent a year ago today. In the spirit of celebrating St. Maarten's strength as a people, we invite all persons of all ages to come out on Sunday 23rd, to walk together, to unite and to bring back unity in our community."
The route will be as follows: Leave the Lion's Civic Center, onto Pondfill Road, turning by the Old Vandorp onto Frontstreet. At Walter Plantz Square we will turn onto the boardwalk. From the boardwalk back on Suckergarden road back to the Lion's Civic Center.