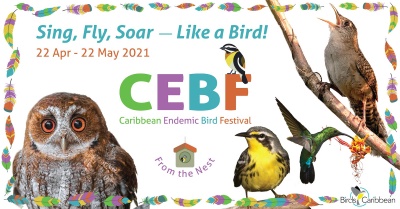 MARIGOT:--- It's that time of year again when our beloved warblers and other migratory birds have left the islands. This is the time when our endemic birds, who live here year-round, come into their own! We have a chance to enjoy them. We watch many of them building nests and raising families in Caribbean gardens, fields, and forests.
The Caribbean Endemic Bird Festival (CEBF)'s 21st edition is well underway. It is a month-long celebration of the region's endemic birds organized by BirdsCaribbean and its partners, ending on May 22. Last year's popular "From the Nest" online series continues this spring, as many of us are sadly still experiencing the pandemic's restrictions. Log on to learn about 30 new endemic birds (in addition to last year's selections). There are coloring pages for kids, activities, puzzles, videos, drawing classes, and more, every day.
The theme for the Festival is: Sing, Fly, Soar — Like A Bird! The CEBF brings people of all ages together, right across the region. The goal is to raise awareness about the 171 unique birds that live only in the Caribbean. Many face threats to their survival. BirdsCaribbean partners are presenting their own CEBF projects on their respective social media pages.
We have a new online activity you're going to love! We invite you to participate in our first "Bird Zine Contest." We will use each entry to build the first-ever virtual Caribbean Bird Zine library! This is a fantastic opportunity for children and adults to creatively express their knowledge of birds. You will find detailed guidelines and judging criteria at these links: Bird Zine Contest Guidelines and What is a Zine and Bird Zine Contest Instructions. Among the grand prizes are two waterproof Vortex Diamondback binoculars (each worth $270USD). The deadline for submission of your zine is 11:59 PM EDT on Sunday, May 30th, 2021.
A series of weekly webinars on aspects of bird conservation is also happening. Visit our website to register and join us on Thursdays at 4 PM EDT from now until June 3rd.
We are also launching a new e-book: "A Collection of Cultural Myths, Tales and Beliefs About Caribbean Birds." It is a collection of stories that show the roles birds play in shaping our understanding of the natural world, social norms, and even beliefs about the afterlife. All stories, articles, poems, photographs, and artwork were submitted by BirdsCaribbean members. The e-book will be available for viewing and downloading from our website.
The #HumansofBirdsCaribbean have been busy behind the scenes, so be sure to follow us on social media and our website and share with your bird-loving family, friends, and networks!