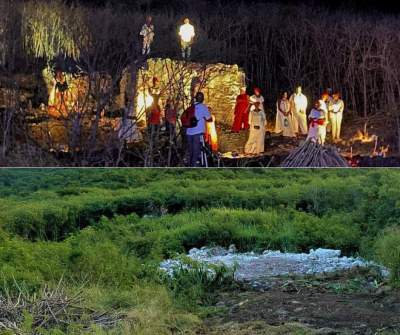 Dear Editor,
Words can't describe how distraught I am at this moment. I can only imagine how my ancestors would feel if they were here to witness this atrocity. The historical structure at Diamond Estate has been completely destroyed at the cost of what? It begs one to wonder who ensures that proper policies and laws are put in place to stop these presumed "illegal" acts.
The Ministry of Education, Culture, Youth, and Sports (ECYS) through the Department of Culture ensures a re-enactment of the Diamond Estate 26 Run for freedom as part of the yearly Emancipation Day celebrations. Which seems to be NO MORE! The responsible agents for this great act of cultural and historical damage seem to be very oblivious to the importance of the site. Diamond Estate was a plantation on the border between Cole Bay and Bellevue, Marigot, where 26 slaves ran to their freedom on May 29, 1848, two days after the abolition of slavery was announced in French St. Martin.
Slaves on the Dutch side of the island protested and threatened to flee to the French side to seek asylum. The local Dutch authorities relented and emancipated the colonies' slaves. While this decree was respected locally, it was not until 1863 when the Dutch abolished slavery in all of their island colonies that the slaves became legally free.
Editor, the Diamond estate was the very place where my ancestors journeyed to get to a better life and many didn't make it. This site was their ray of hope, their chance to choose freedom, not bondage. What will we tell our young generation about their history and culture when all traces of it are gone? Will the Diamond estate be the first and last or is there more to come?
Editor, someone must have seen something, someone knows something and it is their duty as a citizen of this nation to report what has happened without fear of repercussions. The individual/s responsible must pay for their crimes against this whole nation. Additionally, I call for the government to review existing policies and laws (if any) or create new ones that will protect and preserve our history and culture. Also, I urge the government to either replicate the building that was destroyed or create a monument that is greater than any monument that this country has ever seen.
Soualigans we need to stand united NOW more than ever and make sure justice is brought to us all. We can't and should never forget these acts that were done to our culture and history.
Let the words of Faizah Tabasamu in the poem "Soualiga" resonate in our minds about the loss in our great nation.
"Soualiga isn't who she used to be
she is slipping away from me
most of her children don't look back
most won't see her dull expressionless eyes"
"Soualigua has remembered me
I am one of her daughters
and the fire in my tongue
will speak for her."
I am one of her sons and I will speak for her!
Kelron J.P. Bellot
Young concerned citizen