~Robinson cops ACCA Award~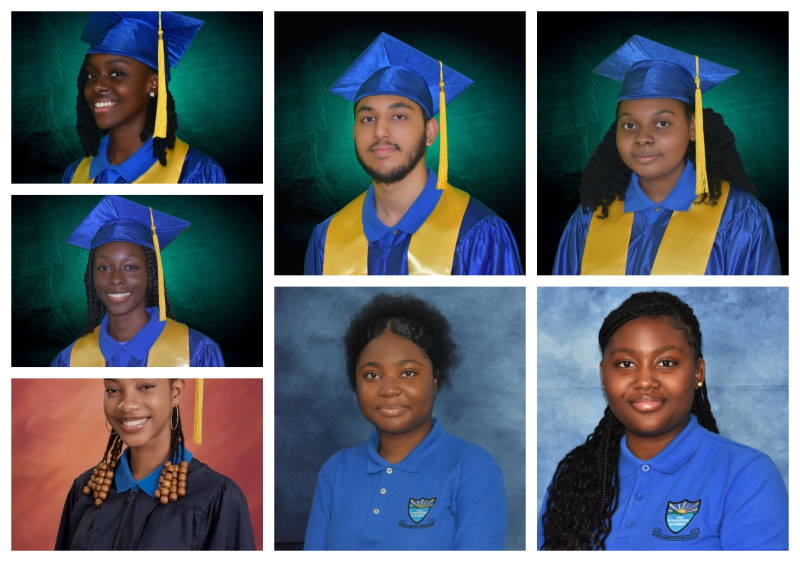 PHILIPSBURG:-- Six St. Maarten Academy scholars have placed among the top 10 in two subject areas from among thousands of other candidates who sat the May/June regional examinations offered by the Caribbean Examination Council (CXC), while another has copped the Association of Chartered Accountants (ACCA) award for the top territorial performer in CAPE Accounting.
According to CXC, three of the six Academy students are among the top 10 in the subject Digital Media Unit 1, while the other three scored high marks for Digital Media Unit 2. Four of the candidates have met the requirements to graduate next month, while the other candidates are currently completing their second year in the Caribbean Advanced Proficiency Examination (CAPE) programme.
Kellie-Ann Dupigny, who pursued a CAPE associate degree in Entrepreneurship, ranked number two regionally in Digital Media Unit 2, while Khushal Punjabi, who pursued his associate's in Information and Communication Technology (ICT) placed third for the same subject. Joselyna George, a Natural Science graduand rounded up the category at eighth place. This marked the second time that Kellie-Ann Dupigny, Khushal Punjabi, and Joselyna George made the merit list. In 2022, Joselyna George placed fourth in Digital Media Unit 1, while Kellie-Ann Dupigny placed 10th. Khushal Punjabi also placed seventh regionally in Integrated Mathematics in 2022.
Two year-one CAPE students are among the three who made the Merit List for Digital Media Unit 1 - Eimaan Mohammed and Netanya McNamara, Tourism and Natural Science students, respectively, placed seventh and eighth; while final year student Zikesha Britton came in at tenth place.
This is yet another consecutive year that Academy CAPE students have put the island on the map by being among the top 10 candidates with the best results regionally. Academy is also celebrating the achievement of the 2022 CAPE Valedictorian Shaneisha Robinson, who last year merited in three subject areas. Robinson was recently the recipient of the 2022 Association of Chartered Accountants (ACCA) award for the top territorial performer in CAPE® Accounting in St. Maarten by the Caribbean Examinations Council (CXC)®. She is the second Academy graduate to receive this accolade.
St. Maarten Academy, which also offers the Caribbean Secondary Education Certificate (CSEC) after the first five years, also saw stellar results among the 78 fifth formers, who recorded 90% overall college passes and 99.84% overall school passes.

Of the 739 entries in 20 subjects offered by the school at CSEC, the students returned 100% passing grades 1-3 in English A and B, Economics, Principles of Business, Additional Mathematics, Human and Social Biology, Integrated Science, Caribbean History, Social Studies, and Electronic Document Preparation Management.
Principles of Accounts, Mathematics, Biology, Physics, Geography, Information Technology, and Visual Arts returned pass rates which ranged from 90 – 99%. Additionally, Chemistry, French, and Spanish returned 88%, 78%, and 54%, respectively.
Among the top performing CSEC candidates are Varsha Ghanash and Jinlan Mo, both of whom copped Grade Ones (the highest score) in all 10 subjects they sat; while Hamzeh El-Aswad and Yndys Gourdet each passed nine of their 10 subjects with Grade Ones. Sameer Shakoor, Kisherno Webster and Sarai Willemsberg received eight Grade Ones with Grade Two passes in their other subjects.
Acting Principal, Kim Lucas-Felix said she is extremely proud of this year's results, especially since there has been improvements in the quality of passes. "We may be deemed tough at times, but we know what our students are capable of and we work towards maximizing their potential. This is a team effort, because when our students are falling short we engage our Student Care Department, our Year Coordinator, and when all else fails, we call in the parents. We believe in our students and every year they work hard to produce great results. We are proud of them."
"In addition to all of the above, we cannot forget the teachers who always go beyond the call of duty to ensure that students complete their School-Based Assessments (SBAs) at CSEC and Internal Assessments (IAs) at CAPE. Congratulations are in order for CAPE Coordinator Kester Small and Mr. Kenver Regis who prepared the Digital Media candidates who made the regional merit list and Ms. Adecia Rutherford, whose Accounting candidate copped the ACCA award. The public needs to know that many of our teachers give up weekends and family time to ensure the success of our students and Management cannot thank them enough," said Lucas-Felix.
She was complimentary of the teacher of Human and Social Biology (HSB), Ms. Michelle Lewis, who, for the first time entered 39 candidates at CSEC and saw a total of 32 of them returning with Grade Ones - 24 with straight A profiles - and seven Grade Twos.
The 2022-2023 academic year was one for the record books for the school's CAPE division. With a total of 61 students, this year marked the largest ever cohort since the launch of the post-secondary programme in 2014. Currently, the school's CAPE programme affords students who meet the matriculation requirements to pursue Associate degrees in Natural Science, Mathematics, Information and Communication Technology, Accounts, Entrepreneurship, Tourism and Economics within two years. In keeping with the school's ethos of excellence, two students, having already obtained English A in fourth form, took on the challenge of writing Communication Studies in fifth form. Therefore, a total of 63 students sat across the record number of 22 CAPE units that were offered in the 2022-2023 academic year.
The subject areas of Accounting Unit 1, Biology Unit 2, Caribbean Studies, Computer Science Unit 1, Digital Media Unit 1, Digital Media Unit 2, Economics Unit 2, Entrepreneurship Unit 2, Informational Technology Unit 2, Performing Arts Unit 1, Pure Mathematics Unit 1, Sociology Unit 1 and Tourism Unit 1 returned a 100% pass rate.
In the area of Digital Media Unit 1, 21 of the 25 candidates (84%), returned Grade Ones. Fourteen of these were straight 'A' profiles, while 20 (80%) of the 25 Performing Arts Unit 1 candidates returned Grade Ones, 12 of which were straight 'A' profiles.
Head of the Social Sciences department, Ms. Anansa Payne, taught Sociology Unit 1 and Tourism Unit 1 for the first time, and returned a 100% pass rate in both subjects; while Ms. Perdessa Abrams, Caribbean Studies teacher, also celebrated a 100% pass rate in her inaugural class. Also noteworthy, was the performance recorded in the subject area of Communication Studies, which was taught for the first time by the school's Vice Principal, Ms. Joanna Trim. The subject, which was written by an unprecedented 57 candidates, marked the largest ever individual subject cohort in the programme's nine-year history, and returned an impressive 96% pass rate.
Other subject areas which returned a 96 % pass rate include Biology Unit 1 and Management of Business Unit 2. Chemistry Unit 1 returned a 95% pass rate, Integrated Mathematics returned a 94% pass rate, while Physics Unit 1 returned an 83% pass rate.
Speaking on the 2023 results, Small said "These results are a testament to what can be accomplished when young people set goals, work hard, and remain focused. Despite the challenges, these students under the guidance of their teachers, and with the support of their parents excelled." She further added, "Although the CAPE programme is rigorous, students of the CAPE division continue to prove that effort leads to excellence."
Since 2021, St. Maarten Academy has captured 21 spots on the CXC Regional Merit List. The Merit List features the students across the Caribbean region who attained the top ten scores in each subject written during the May/June examination period. This is yet another consecutive year that Academy CAPE students have put the island on the map by being among the top 10 with the best results regionally.
The Board of the Foundation for Academic and Vocational Education (FAVE) under which St. Maarten Academy falls, extended congratulations to all the students on their success as it was evident that "The Tassel was Worth the Hassle" (this year's theme for graduation).
##