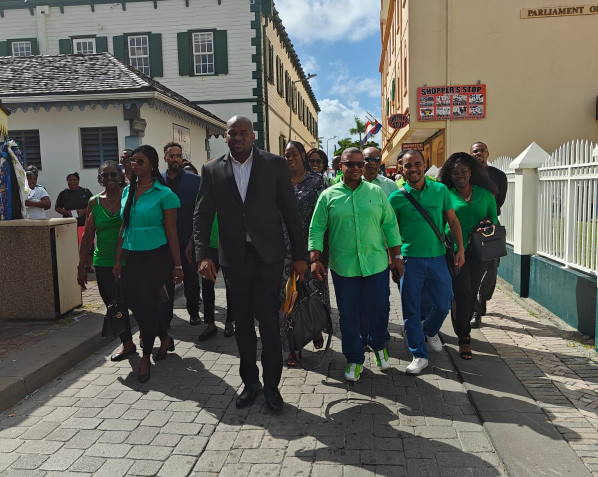 PHILIPSBURG: --- Minister of VSA Omar Ottley tells the court on Friday morning that he will not be a scapegoat or poster child for corruption on St. Maarten, corruption that took place in the past or present".
Ottley addressed the court in the defamation case he brought against businessman Olivier Arrindell for slander and defamation. In addressing the court, he said the only thing he had was his name and he worked very hard for the assets he obtained in life. The new Minister of VSA says that he was kept out of office for 14 long months during his screening process and he was vindicated by the court, and the only thing he received after the procedure was a mere 'sorry'. "it seems to me that success equates corruption on St. Maarten.
Ottley also submitted to the Judge the deed for his Betty's Estate home he purchased in 2018, which he obtained through a mortgage while he owned and operated his own construction company O &Eric Construction Company which was closed prior to him taking office as a Minister. He also provided the court with the deed for his Valley Estate home that he purchased in 2023 inside that deed he told the judge it stated how he acquired this property. The deed states that Ottley used the collateral equity of his Betty's Estate home to acquire the Valley Estate property.
For the car he purchased for his girlfriend, he showed the court a leased contract he has with Caribbean Auto Sales that he pays for monthly, while he provided the court with a loan agreement, he is paying First Caribbean Bank for his personal vehicle.
He told the court he has no house in Dubai and was able to deny that the things Arrindell says he owns are not true. No house in Dubai, he doesn't own 3 houses, doesn't have an account at Republic Bank, and doesn't have money in Panama. Arrindell did not submit any evidence to prove what he said was factual. He did say that he has proof of the assets in St. Maarten but the people are still investigating in Dubai to come up with the evidence for the house in Dubai. Arrindell further said that he gets his information from the people of St. Maarten and St. Maarten people like melee.
The Minister also submitted a letter from NV GEBE that shows that O& Eric Construction has not received any contracts from GEBE since 2018 and it also states that his father Milton Ottley did not obtain any contract from GEBE.
At the start of the case, Oliver Arrindell asked the judge to deem a piece of evidence Bommel submitted while he was in an aircraft en route to St. Maarten inadmissible. Arrindell said the piece of evidence submitted at the 9th hour lacks merit and it has nothing to do with the case against him. In responding to that Attorney at Law Shaira Bommel who represented the Minister of VSA told the court that the last production that was added, was added within the deadline. She said Arrindell also added something last minute, so he should know better.
Bommel said Mr. Arrindell knows the difference between freedom of speech and slander. He himself has been accused in a video where he says, "If anyone shares anything against me, I will sue you for slander." Why is it when he feels someone says something against him, it is slander, but when he makes all these false claims, it is "freedom of speech" (the lawyer continues to highlight the hypocrisy of his "freedom of speech" defense when he accused so many others as slander.) He has even stated that he would take the newspaper in Curacao to court for slander. He clearly knows the difference, Bommel reiterated.
Regarding this being private, Bommel states many examples where Arrindell refers "to the people of St Maarten" or my people.
Arrindell who represented himself in court without a legal representative said that his conversations with the WhatsApp group SXM Movement for Change are private and that he never invited Omar Ottley to his group, he said the Minister and the Government of St. Maarten hinged on his privacy and his right to freedom of speech. He asked the judge to dismiss the claims brought against him because he never spoke in public or on Facebook social media. He insisted that he did not share the videos and texts submitted to the court publicly but it's the citizens of St. Maarten that share them publicly, the very people he said appointed him to speak on their behalf.
Bommel said that the Minister deems the case urgent as the court should recognize that Arrindell continues to slander Ottley, and therefore the urgency is important to put a stop to this. In video 14, Arrindell said he was not going to stop. She quotes Arrindell from the video: "If the judge told me to say sorry, I will say sorry, but I will continue to call him corrupt." Clearly, if no serious action is taken, he has admitted he will not stop his false statements. The high fine is important to help prevent this. Bommel says that she was even attacked by Arrindell.
As you have heard, he has spoken: "to the people of St. Maarten". Every day, literally every day, he attacks Ottley. He gives him various ways of slandering. He has accused him of various crimes. He has said, "I am going to rip your heart out" and stated this is a person, in response to this Arrindell said he meant no personal harm to Ottley in fact he said Ottley is a boxer and he is bigger than him, he asked the judge how it is possible for him to harm such a big built man.
Bommel said but here is the most important fact: in all the documents submitted in Arrindell's defense, he was totally unable to prove one single thing. His main defense is just that: this was a private conversation. Indeed, Arrindell insisted that his conversations on WhatsApp were private and felt the government was using intimidation to control the citizens of St. Maarten. He said the government is spying on people's conversations and asked the judge if she would like anyone to spy on the conversations she has with her family.
Bommel said all the accusations have constantly been made in public. Arrindell says that he is only doing this privately. "We have said it is clear that there is jurisprudence, and based on how he speaks, he is publicly sharing these statements. Bommel then states examples in case law where using WhatsApp as a communication does count as public statements in the context."
The attorney said by making these videos, and spreading them in the group that ends up on Facebook, some of the messages in these videos are directed to Omar Ottley.
Bommel said that Arrindell never said that the pictures and videos may not be shared. On the contrary, he lets them be placed in the public, even if he did that, he should consider that there is a strong chance that it would be spread. She concluded that all statements made by Oliver Arrindell were public. She further stated that while Arrindell is claiming his videos are based on freedom of speech, he is violating the law by slandering people.
Bommel told the court that Arrindell was already convicted in court in Curacao, however, he told the court he did not see the relevance since Suzy Camilla Romer's case has nothing to do with the case Ottley brought against him. Arrindell also told the court that while Ottley is claiming slander and defamation, he too is slandering his good name, and if the court rules that he in fact slandered him the court would have to order Ottley to apologize to him.
Bommel said Ottley is always welcome to receive criticism. But these attacks are not criticism or freedom of speech, but personal attacks and slander. Freedom of speech does not allow you to infringe on the right to maintain a good name. He has stated falsely "that Ottley took money from Arajet", yet even today he cannot provide any proof of this, his lawyer said.
Bommel said that these sorts of statements are very damaging he claims he saw it with his own eyes, but he claims he "didn't have his phone on him". This is not likely for a man who makes dozens of videos a day or goes and films people's homes.
She told the court that in short, they have proven that all statements made about Ottley are totally false. These statements are damaging to his reputation, and for his position a good name is important. For this reason, this has to be rectified.
Bommel argued that none of the statements that he made were able to prove. Again, Ottley says he has no issue with criticism, but these are not that, these are false claims. Arrindell has been unable to present a single piece of evidence. It is all completely false statements. He sent a video, of the Dutch politician saying that the island is corrupt, but in that video, you never hear a Dutch politician call anyone by name. That is a big difference. Arrindell is personally attacking Ottley.
Arrindell asked the court why the government of St. Maarten didn't take the Dutch politicians to court for they have said numerous times that St. Maarten politicians are corrupt. He asked the judge to order Ottley to provide him with proof of how he acquired all his assets, and where did he get the money from to purchase these properties. He also told the court if Ottley vindicated himself he would then apologize.
On several occasions, Arrindell told the court he was lost with the proceedings because according to him the attorney was speaking too fast. The court provided a court translator for Arrindell for the entire proceedings, even though he is a Dutch citizen.
He informed the court that out of respect for the court, he traveled for 19 hours in order to be present at Friday's hearing. "Your honor I did this for you. I do not live in St. Maarten I live in Congo and in the Dominican Republic the airline ticket to get here is expensive, but I did it."
As for Olivier Arrindell, he said they are family, but Ottley and his relatives erupted in the courtroom and denounced his statements as being a family member. He told the court that Ottley's grandmother took him in as a child, and she is the one who sent him to correctional school in Curacao. Ottley told the court that he is not related to Arrindell, and he is honored to know that Arrindell recognizes his grandmother as his own. Arrindell said he knows Ottley from a child that they used to drink Cocoa tea together in their underpants. In the end he accepted that he is not related by blood to the Ottleys.
The judge then asked if they grew up in the same household and Ottley admitted that knew Arrindell and he had known Arrindell since he was five years old.
The court will render its verdict on November 24th, 2023.