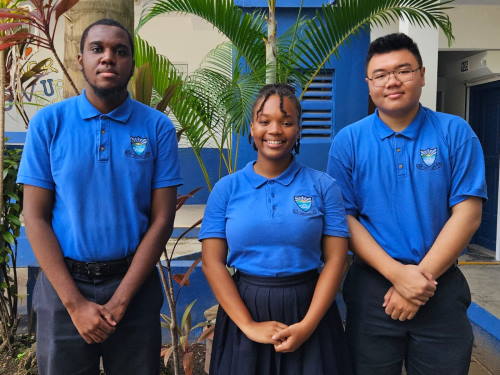 PHILIPSBURG:--- Three students of the St. Maarten Academy CAPE Division recently completed the UNESCO Caribbean Sheroes Academy 2023 Summer Academy training. Upper Sixers Juliette Duvillage, Donaldo Marcelus, and Yu Jun Yang were three of the "39 incredible youth from 17 Caribbean countries" who were chosen to participate after a rigorous selection process, according to UNESCO Caribbean.
Besides St. Maarten, participating territories included Belize, Haiti, Jamaica, St. Lucia, St. Kitts, Trinidad and Tobago, Turks and Caicos, and The Bahamas. The training was once again conducted in collaboration with the Institute for Gender and Development Studies, Regional Coordinating Office (IGDS-RCO) at the University of the West Indies. This year's theme, "Leaving No One Behind", was aimed at young people between the ages of 18 and 30. The 12-hour workshop spanned four days; November 1st, 2nd, 8th, and 9th, from 6 pm to 9 pm, and offered intensive and interactive virtual classes to participants guided by the UNESCO Training Manual on Gender Equality, Development and Advocacy.
Topics covered included gender, gender mainstreaming, gender justice and advocacy, while the theme was selected in an effort to address different forms of exclusion and discrimination. In sentiments echoed by his classmates, Yu Jun Yang said of his experience, "I learned a lot from this workshop. It allowed me to view all people equally to help everyone to gain equality, and reinforce the importance of respecting different perspectives." Beside the presentations, the highly interactive sessions required participants to engage in a series of activities, and discussions, which included developing advocacy campaigns promoting strategies to aid marginalized communities in society, ending gender-based violence, economic empowerment, and aiding women with disabilities.
In speaking on the training, CAPE Coordinator Ms. Kester Small says, "This initiative by UNESCO and IGDS-RCO marks their continued commitment to not only providing Caribbean youth opportunities to engage with one another, but also to develop conscientious young people who will develop the skills that would aid in developing world citizens. It is my desire that participants will serve as advocates for the socially maligned and ostracized. In a world that is so heavily divided, projects such as these are important to foster a culture of inclusivity, diversity, and equality, she further added.