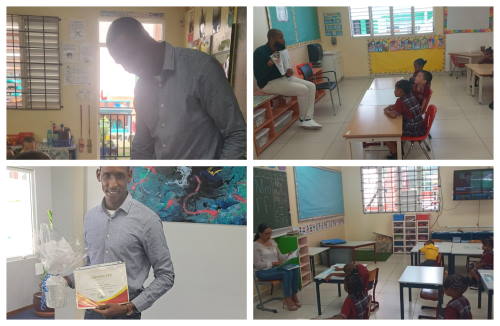 PHILPSBURG:--- Orco Bank in Sint Maarten, proudly participated in the worldwide celebration of International Literacy Day by engaging with the local community in a meaningful way. Employees from Orco Bank volunteered their time to read stories to students at the Seventh Day Adventist School, fostering a love for reading and promoting literacy among the youth.
International Literacy Day is observed globally to highlight the importance of literacy as a fundamental human right and the foundation for lifelong learning. This year, Orco Bank took the initiative to actively contribute to this cause by organizing a reading session for the students.
The event was a heartwarming experience, as Orco Bank employees connected with eager young learners through the magic of storytelling. The joy on the children's faces was palpable as they immersed themselves in the enchanting world of books.
Orco Bank's participation in International Literacy Day is part of its ongoing commitment to corporate social responsibility and community engagement. The bank recognizes the vital role that businesses play in contributing to the well-being of society and is dedicated to making a positive impact on the communities it serves.