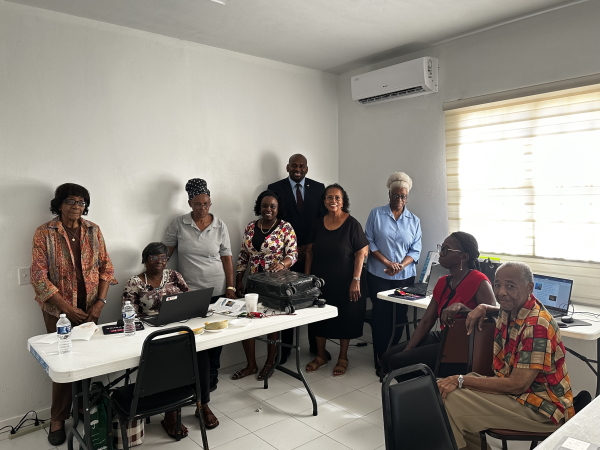 PHILIPSBURG:--- The Minister of Public Health, Social Development, and Labor, Honorable Omar Ottley visits the Elderly at the Gaston Boasman Community Helpdesk for the Elderly and Disabled at Hope Estate during their SMART Tech training.
It is impossible to succeed in the modern world without the ability to utilize a personal electronic device such as a computer, laptop, tablet, or smartphone. To ensure that the Elderly are not left behind, Minister Ottley, through the department of Community Development, Family & Humanitarian Affairs, a division of the Ministry of Public Health, Social Development & Labor, rolled out SMART Technology for the Elderly.

In 2022, the Department of Community Development, Family, and Humanitarian Affairs assessed a total of four senior organizations. The purpose of the assessment is to evaluate the current status of the organizations and maybe determine if and how senior organizations could be assisted.
The three months SMART Tech training is one of the numerous projects spawned by the assessment. SMART TECH training topics include creating a document with images, browsing the web on several devices, setting alarms on the phone for medication intake and doctors' appointments, using Whatsapp to keep in contact with friends and families both locally and abroad, etc.

Participants in the SMART Tech workshop expressed their pleasure in attending and satisfaction with what they had learned thus far. The training is facilitated by the Caribbean Institute For Social Education Foundation (CIFSEF). Seniors attend SMART Tech training twice per week. During the session, there are two facilitators present, and the seniors receive a healthy snack. A second cohort of participants will commence classes in the early part of the second quarter.

"The SMART technology training is an excellent chance to enhance the quality of life of the elderly, minimize the physical and cognitive limitations associated with aging, and secure their safety while respecting their desire for autonomy" Minister Ottley stated.