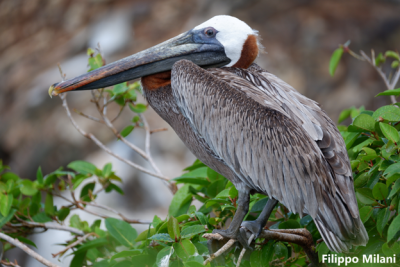 PHILIPSBURG:--- A new project implemented by Environmental Protection in the Caribbean (EPIC) Foundation aims at investigating the state of Sint Maarten's brown pelican population for improved management of the species and its habitat.
EPIC has started a new project to research the status and conservation of the Caribbean Brown Pelican (Pelecanus occidentalis occidentalis) on Sint Maarten and promote the conservation of the pelican through awareness raising and outreach activities. With the data collected, the long-term goal of this project is to improve the management of natural resources for the preservation of biodiversity on Sint Maarten, particularly Sint Maarten's brown pelican population and associated habitats.
A symbol of Sint Maarten's Nature and Culture under threat
The brown pelican is a good indicator of general ecosystem health and is a national symbol and appropriate mascot for nature and culture preservation. The largest pelican nesting colony is located at Fort Amsterdam, internationally recognized as an Important Bird Area and a site of historic significance.
Numbers are concerning. Brown pelican numbers have declined in the last decade, in addition to sightings of sick and dying birds. The last assessment of the nesting success of the colony at Fort Amsterdam by EPIC was ten years ago. During that time, the number of Pelican nests number showed a downward trend, with an 85% decline in breeding activity between 2000 and 2010. Typically, the female lays two to four eggs, while both parents incubate the nest. Chicks can fly and fend for themselves after three months, but they need to be fed for eight to ten months.
The deteriorating numbers are suspected to be related to the development and to potential botulism outbreaks. In addition, disturbance of the nesting colony is an ongoing threat, and outreach efforts are needed to inform the public of best practices to reduce or eliminate disturbance, pollution, and development of sites, especially during the breeding season.
Pelicans need our help
Research alone cannot conserve the pelican, everybody's help is needed.
A brown pelican conservation manual will be drafted and provided to key decision-makers and educational signs will encourage best practices at the pelican nesting site. Businesses and tour operators with nearshore activities will be contacted to encourage the most appropriate actions to reduce disturbance and flushing of birds from nests. The project team is offering free presentations about pelicans to schools, community groups, and businesses. EPIC is also calling on all residents and tourists in Sint Maarten to report sightings of injured or dead pelicans, as part of important data collection.
This project is made possible with the support of the United Nations SPAW/RAC, Prins Bernhard Culture Fund, and the Dutch Representation Office in Sint Maarten
Updates about this project and upcoming events can be found on EPIC's Facebook page: www.facebook.com/epicislands.
For more information or inquiries into collaborations, please contact the Project Coordinators at This email address is being protected from spambots. You need JavaScript enabled to view it.This email address is being protected from spambots. You need JavaScript enabled to view it.This email address is being protected from spambots. You need JavaScript enabled to view it..