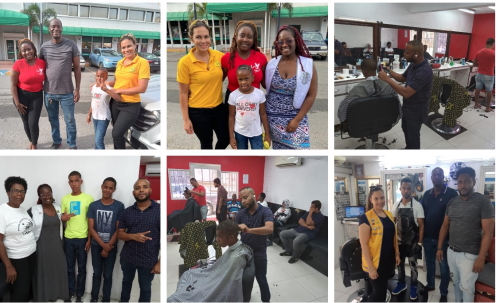 PHILIPSBURG:--- The Sint Maarten South Leo Club recently completed its "Back-To-School with a Fresh Cut and Style" Community Project which was a joint collaboration with Stichting Justitiele Inrichtingen St. Maarten (SJIS), Residential Youths Home, UJIMA foundation, Hensey barbershop, Los Mejores Barbershop, and Island Girl Hair Salon. The Back-to-School initiative catered to 6 boys and 2 girls ages 8 to 16 years old.
The Sint Maarten South Leo Club under its theme "We are Youth, We are Fierce, We are Empowerment" believes in empowering the future of all youth by ensuring all students step into the new school year with confidence.
The Club's President Leo Stephania Prescod said: "I am delighted to have the Club collaborate and contribute to student preparations for the new school year, ensuring smiling faces as well as the confidence to start the school year off on the right foot. I would like to extend to all students, teachers as well as parents a heartfelt, successful school year ahead. The support that the Sint Maarten South Leo Club received from the above businesses to make this Project a huge success has been great. In addition, we are pleased that they understand and recognize the importance of a joint effort to make positive changes within our society".
The Sint Maarten South Leo Club hopes that many more businesses, Organizations, and individuals are inspired to collaborate and/or lead in service because together we can touch more lives who are in need.