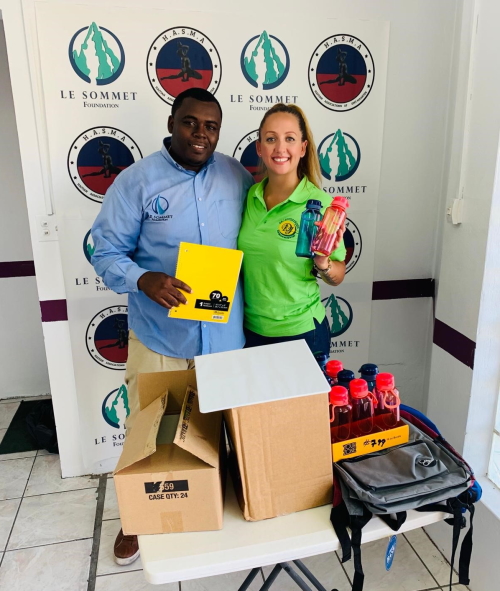 PHILIPSBURG:--- Over the weekend, the Le Sommet Foundation in collaboration with the Haitian Association of St. Maarten partnered with the Dr.J foundation to further aid with their back-to-school initiative drive.
Dr.J foundation in collaboration with the Ministry of VSA operates a transitional shelter for individuals affected by hurricane Irma and the covid19 pandemic.
Their goal is to provide support and sustainable pathways for the reintegration of affected persons back into society.
"It is truly an honor to be able to contribute to this back-to-school initiative. We are firm believers in education, and the no child left behind policy.
This year we decided to forgo our usually back-to-school kits drive and focus on the most vulnerable. They too are entitled to proper education, and I am happy that we were able to help make going "back to school fully equipped & ready" possible!
We want to wish the recipients of these items and by extension the community at large a safe and productive school year and look forward to the many success stories at the end." - Fabio Doralice President of the Le Sommet Foundation & Vice President of the Haitian Association of St. Maarten
"We are very Thankful, from the Dr.J Foundation to have received this donation for the children that live in the Transitional Facility (Shelter in Sucker Garden)
"It's so important for the children to embark on
a new school year equipped and motivated to tackle the school year ahead," said Dorian Neijs, Social Worker at the facility. "We still seeking donations or pledges for school uniforms or fees," she continued to say.