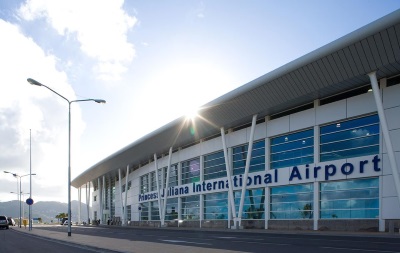 ~ Emergency Crew manning ATC~
AIRPORT:--- The Princess Juliana Airport Air Traffic Controllers are currently on strike as they protest various grievances, one being the 12.5% cuts in their salaries.
SMN News learned that the air traffic controllers are being supported by their unions the Windward Island Civil Servants Union (WICSU) as they continue to protest the way their Collective Labor Agreement goes.
In a letter to the CEO Brian Mingo, the Union WICSU/ PSU informs Mingo that their members from the Air Traffic Control Department requested an urgent meeting with them on Saturday, January 15th which will begin from 7 am to 5 pm to discuss the frustration being experienced due to the indecisive communication that has been going back and forth between management and the union regarding the way forward.
"The union is hoping management and the board of PJIAE understand the serious effects their decisions are having on their members.
This should not be taken lightly as our members carry the title of Air Traffic Controllers and if they are frustrated they will not be able to perform their duties optimally.
lt must be taken into consideration the human factor that is attached to this job. We as Union also understand the responsibility that our members carry where it pertains to the economy of St. Maarten and find it very unfortunate that our members have to resort to these measures.
As a union we take this very seriously and find it unfortunate that after all these years of negotiating that there is no solution to the issues brought forward on behalf of the members of the ATC by the management and board of PJIAE.
This is of great concern to the Union, and we hope that a solution to the issues with our members can be solved post haste." This letter of information was signed by the WICSU/PSU President Sharon Cannegieter, it was also copied to the Prime Minister of Silveria Jacobs, Minister of TEATT Roger Lawrence, and the Minister of Labor Omar Ottley.
Chief Executive Officer of PJIAE Brian Mingo said that an Emergency Crew is now manning the Air Traffic and aircraft are able to land. Mingo who is busy with the current strike said that he will provide more information later today.
SMN News learned that the Princess Juliana International Airport announced today that the scheduled closure will be at 6 pm to ensure safety due to limited staff at the Air Traffic Services (ATS). The Airport has since extended its opening hours to 9 pm.