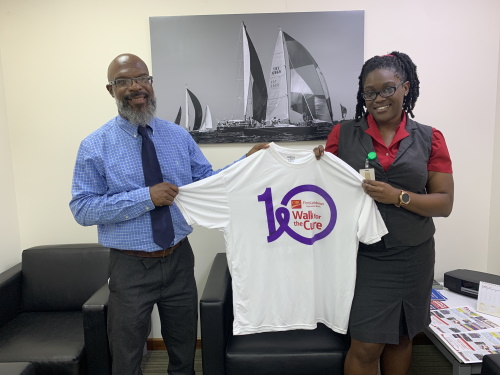 PHILIPSBURG:--- CIBC FirstCaribbean, Positive and the Elektralyets Foundations are revving up for this Sunday's Drive for the Cure motorcade.
Amid the pandemic, the bank has found creative ways to celebrate its 10th anniversary of Walk for the Cure, the region's largest cancer fundraiser. The motorcade is the first ever for CIBC FirstCaribbean St. Maarten. The bank continues to bring awareness and raise funds by supporting charities such as the Positive and Elektralyets Foundations. These foundations raise collective awareness and stress the importance of early detection and screenings for breast and prostate cancer, through educational campaigns on the island.
Participants are encouraged to arrive on time at 2:00 pm at Caribbean Eagles Club (opposite Prime Distributors) on Orange Grove Road in Cole Bay. The first 10 participants will receive a gift voucher, courtesy of Caribbean Gems and the first 100 will receive a gift bag courtesy of Zhaveri Jewelers. Car flags will also be distributed. All are asked to observe and adhere to Covid-19 protocols before and during the drive.
The motorcade will be guided by the traffic team of the Caribbean Eagles onto Union Road and head up the Cole Bay hill. The route will then take participants past the roundabouts onto Little Bay, and then Longwall Road, from where the motorcade will take the Walter Nisbeth Road unto W.G Buncamper Road before heading to Point Blanche. There it heads onto Ground Dove Road, coming around to Goldfinch Road before leaving Point Blanche. The route then leads to Sucker Garden, Defiance, Bishop Hill Road, then A.T. Illidge Road onto Bush Road, before heading into South Reward. The last leg will take participants back to Cole Bay, over the Causeway onto Airport Road with a turning at the roundabout in Maho, and back onto Airport Road, over the Simpson Bay Bridge, ending at the bank's Cole Bay branch. All motorists are asked to respect the directions of the traffic team.
The bank is very thankful for the support of the public and its partners - Adtalem Global Education, American University of the Caribbean School of Medicine, Port St. Maarten, Motorworld, Prime Distributors, Sentinel Accountants & Consultants, Caribbean Gems, Dasani, Zhaveri Jewelers, Real Auto, and Subway.
Persons can still join the cause; t-shirts are available at both the bank's branches at the US $10.00.Contribution can also be made at the branches via the walk's donation drop boxes or via CIBC FirstCaribbean Account C/A 10055400.