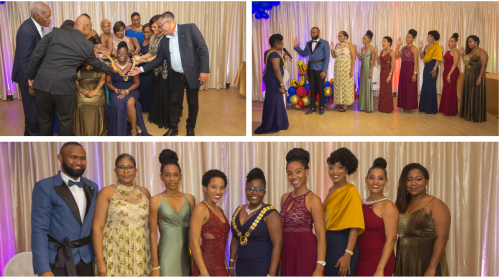 WILLEMSTAD:--- JCI Dutch Caribbean chose and installed its new board. This took place during the annual National Convention event. According to the new chairman of JCI Dutch Caribbean, during this coming year, the organization will empower its members to continue to take action and show results in the community more often, which is why the main theme of 2022 is 'Choose Action'.
It is well known that every time a person takes action on a goal or a dream, that person gets closer to his goal or dream. This is no different in JCI and every positive action a member takes has an impact on themselves and the community around them. This ultimately brings us to JCI's main mission is to bring positive change to the community.
Junior Chamber International's philosophy of 'one year to lead' centers on giving young people between the ages of 18 and 40 the opportunity to gain experience in leadership positions. The highest level that a person can take a leadership position in the national organization of JCI Dutch Caribbean is, as a member of the national board. The national board is elected by the local organizations of Curaçao, Aruba, and Sint Maarten during the annual National Convention.
JCI Dutch Caribbean board for the year 2022 consists of the 61st National President Sulin S.F. Passial, supported by Secretary Sugeidy Windster, Treasurer Gina Francisca, Executive Vice-President Shakira Albertoe, Vice-President Vanessa Overman, Vice-President Aldimir Vrutaal, Vice-President Raisha Williams, General Counsel Tiffany Cristina and Immediate Past President Sheryl Renfrum-Sordam.
The coming year will be a very special year for the new board and all members of JCI Dutch Caribbean. This is because the organization has the honor of hosting the 2022 Conference of America. It will take place in Curaçao between May 18 and 21, 2022. During this conference, people from North America, the Caribbean, and around Latin America will visit the island for a week of important meetings, training, cultural exchange, and celebration of achieved goals. All local organizations of JCI Dutch Caribbean are working together under the leadership of JCI Willemstad to get this important event going. For this, JCI Dutch Caribbean likes to count on the support of the private and public sector, and on the community of Curaçao in general. This is because the event as a whole contributes to the economy in general and specifically to the tourist sector.
JCI is a global organization of leaders between the ages of 18 and 40 that transforms passionate young people into capable leaders through training, projects, events, and programs. JCI Dutch Caribbean consists of five local organizations. In Curaçao JCI Creative Leaders in Curaçao (CLIC), JCI Involvement Of Banda Ariba Curaçao (IOBA Curaçao) and JCI Willemstad. In Aruba: JCI Young Active Leaders Aruba (YALA). In Sint Maarten: JCI SXM A.C.T.I.O.N (Aspiring Change To Impact Our Nation).
If you are interested in developing your leadership skills while contributing to the community, please feel free to contact JCI Dutch Caribbean at This email address is being protected from spambots. You need JavaScript enabled to view it.. For more information about JCI in general, visit the website www.juniorchamber.international. Follow us on Facebook and Instagram @jcidutchcaribbean for the latest developments and activities from JCI Dutch Caribbean.