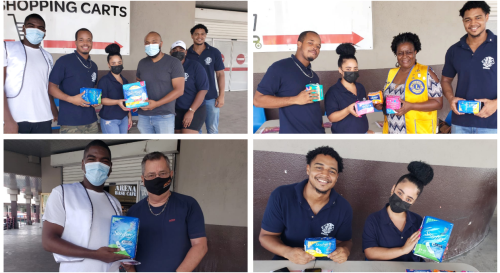 PHILIPSBURG:--- The St. Maarten South Omega Club held a "Period Poverty" Drive at Carrefour Supermarket on Saturday 9 October 2021. This was in response to the "Period Poverty Awareness" Campaign that is currently ongoing in the islands of Leo District 60B. Club Members joined together in front of Carrefour to collect feminine products from the general public who passed by. This also provided the public the ideal opportunity to learn more about The St. Maarten South Omega Leo Club and its members.
The Omega Leo Club President Javid Hurtalt stated "it is a great feeling to not only bring awareness to this very important issue but also to collect items to ensure that we are doing our part in service, by advocating for those who are unable to do so and share the dignity in raising awareness on "Period Poverty".
As a Service Club, we continue to do our part for our community and it does not matter the size of the contribution. It still has a meaningful impact on where we will move forward for the betterment of our country."
The St. Maarten South Omega Club has plans for more "Period Poverty" Drives to provide the community the opportunity to contribute to its initiatives. Future locations will be announced on the Organization's social media outlets.
The Omega Club encourages persons within the community to join in its efforts in sharing dignity and thanks to its members for their continued dedication.