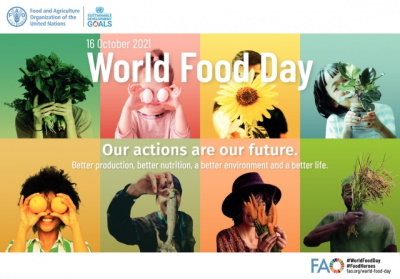 GREAT BAY(DCOMM):--- World Food Day (WFD) will be marked around the globe on Saturday, October 16 under the theme, "Our actions are our future- Better production, better nutrition, a better environment, and a better life."
According to the United Nations (UN) Food & Agriculture Organization (FAO), "The food we choose and the way we consume it affect our health and that of our planet. It has an impact on the way agri-food systems work."
The FAO added that collective action across 150 countries is what makes World Food Day one of the most celebrated days of the UN calendar.
#WorldFoodDay 2021 will be marked a second time while countries around the world deal with the widespread effects of the global Covid-19 pandemic. It's a time to look into the future we need to build together.

The Collective Prevention Services (CPS), a department from the Ministry of Public Health, Social Development and Labour, calls on the populace to work on planting their fruits and vegetables in their backyard to support growing and nourishing a healthier diet.

Reduce preventable diseases and deaths from high consumption of sodium and salt, sugars, and fats, particularly trans fats. Consuming a healthy diet from pre-birth to the last days of life is vital to prevent all forms of malnutrition as well as diabetes, cancers and other noncommunicable diseases (NCDs). Eat more whole grains, legumes, vegetables, and fruits.

CPS adds that as a community, promote the need to plant vegetable/fruit gardens and support local food producers that would ensure a sustainable future together for a better environment and a better life.