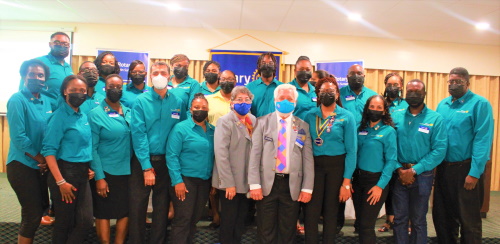 PHILIPSBURG:---The Rotary Club of St. Martin Sunset welcomed District Governor Louis Wever to their general meeting on Monday, September 13th, 2021, at Carl's Unique Inn & Conference Facilities. DG Wever holds one of the highest leadership positions within District 7020, which comprises the islands St. Barthelemy, St. Maarten / St. Martin, Anguilla, British Virgin Islands, U.S. Virgin Islands, Cayman Islands, Jamaica, Haiti, Turks and Caicos Islands, and the Bahamas. One of the District Governor's core responsibilities is to visit all clubs in the district to provide support, deliver the RI President's message, and present an update on district goals.
The meeting commenced with the sweet sounds of Sweet Pan Entertainment, as Rotary Sunset's President, Norrisa Anatol, DG, and wife Amanda Wever, grooved their way into the conference room with rapturous cheers by the members present. During the meeting, President Anatol and committee chairs briefed DG Wever on past, present, and future projects and activities and discussed the current membership status, goals, and future strategic plans of the club.
In addition to the club members present, Assistant Governor, Seymour Hodge, joined in on the momentous occasion via Zoom. DG Wever, making Rotary Sunset his first choice as he commences his official visits to all clubs in District 7020, delivered a reflective message to the club members on the status of the district. He also discussed the district's efforts to assist our brothers and sisters in Haiti and encouraged the members of Rotary Sunset to do their part in providing relief. DG Wever also highlighted the importance of friendship and partnership with other Rotary clubs. He concluded his message by commending President Anatol and the club for continuously executing effective initiatives in the community and reminded the members to constantly attract new professionals who exhibit humanitarian attributes.
On behalf of the club, President Anatol presented DG Wever and his wife with a lovely basket filled with goodies, which included two beautiful, customized color-changing mugs embellished with a photo of the couple. The night came to an end with fellowship and the opportunity for club members to capture memorable moments with DG Wever.
The members of the Rotary Club of St. Martin Sunset would like to thank DG Wever and his wife for their visit to the club and look forward to the impactful Rotary year 2021-2022 under their leadership. The club would also like to show appreciation to Sweet Pan Entertainment for its exquisite performance. The Rotary Club of St. Martin Sunset meets on the second and fourth Monday of the month at Carl N Sons Unique Inn and Conference Facilities in Cole Bay at 7:30 pm. Due to COVID-19, the club currently meets via Zoom ID: 992-348-5801. The club can be contacted via email at This email address is being protected from spambots. You need JavaScript enabled to view it. or via the official Facebook page at facebook.com/rotarysxmsunset.