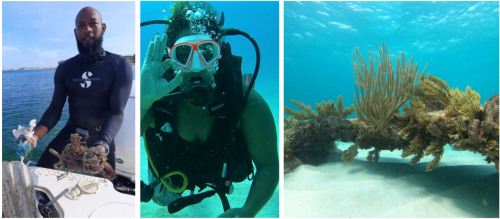 PHILIPSBURG:--- Kidz at Sea has received a grant from the second round of the R4CR Quick Win Grant Schemes in order to execute the SXM Coastal CleanUp Project: 'Making our Coastline Safe and Clean Again—One Bay at a Time'.
The SXM Coastal CleanUp project will focus on surveying and mapping the bay areas of St. Maarten where debris from Hurricane Irma can still be found. With the assistance of the Nature Foundation St. Maarten, one bay will be chosen to execute a clean-up and removal of hurricane debris.
To ensure that the project provides as much benefit to the residents as possible 12 young adults will be trained in the skills necessary to properly execute the mapping and clean-up including beginner and more advanced diving certifications and basic first-aid. In addition to the training and clean-up events, the project will provide educational outreach about the effects of pollution on our ocean and host Discover Scuba Diving events for students who wish to try out diving for the first time
"This project is an amazing opportunity to not only, improve the health of our ecosystem by removing old hurricane debris, but will also provide a large group of young St. Maarteners with skills and lifetime diving certifications that they could use in future careers," said Project Coordinator Leslie Hickerson, "Our outreach events will help educate our youth about the importance of safeguarding our natural resources and instill a sense of responsibility to protect our ecosystem."
This project, which launched on July 1st, 2021, will be completed by December 2021 and is a first step towards ensuring that the coastline of St. Maarten is once again free of the signs of damage from Irma. Due to the extended period, the materials have been underwater they must first be analyzed to ensure that there are no negative impacts to the environment during removal.
Since 2012 the Kidz at Sea organization has worked to introduce and train St. Maarten young adults in the maritime sector, giving them the skills and certifications necessary to succeed in the industry.
"We are excited to start this project! We see the Scuba training as a continuation of our Zero To Hero program, allowing interested participants to expand their knowledge in the underwater world. We are thankful to RC4R for this opportunity," said Kidz at Sea Board Member Lorraine Talmi.
Kidz at Sea is now accepting applications from St. Maarten residents ages 18-35 that would like to join the SXM Coastal CleanUp team. Participants must be medically fit to dive, able to swim, hold valid medical insurance, and have an interest in contributing to the health of our island. Those interested can send an email to This email address is being protected from spambots. You need JavaScript enabled to view it. or Whatsapp +1-721-526-7463 for more information. To learn about the outreach events and activities follow SXM Coastal Clean-Up on Facebook and Instagram.