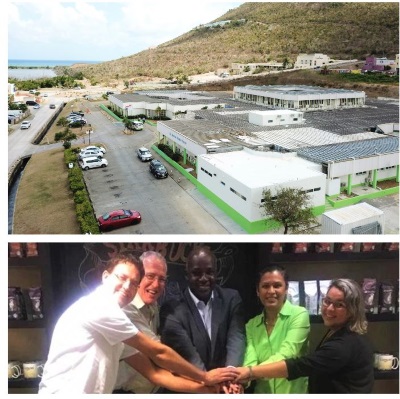 CAY HILL:--- St. Maarten Medical Center (SMMC) recently started Pulmonology services (which is a medical specialty that deals with diseases involving the lungs) within the newly constructed multi-purpose clinic which is being shared with Urology and Neurology.
The Pulmonology Clinic at SMMC is operational on a weekly basis and provides a range of services for the treatment of a variety of lung diseases such as: Asthma, Chronic Obstructive Pulmonary Disease (COPD), Obstructive Sleep Apnea Syndrome (OSAS) Tuberculosis, Lung Emphysema and much more.
The rotating team consists of five Pulmonologists originating from Aruba, Bonaire and Curacao, namely Dr. Folkert Brijker, Dr. Caroline Becker, Dr. Selene Kock, Dr. Leontine van Elden and Dr. Monique Wong Loi Sing. The team brings with them a diverse background and sub-specializations within their field.
Dr. Brijker works at St. Elisabeth Hospital (SEHOS) in Curacao as head of the Pulmonology department. He specializes in Endobronchial Ultrasound (EBUS) which is a minimally invasive, yet highly effective, procedure used to diagnose lung cancer, infections and other diseases.
Dr. Becker currently works in Aruba, she specializes in Obstructive Sleep Apnea and Tuberculosis patient care. Dr. Kock currently works in Aruba specializing in Interstitial Lung Disease (ILD) and Sarcoidosis. Dr. van Elden currently practices in New York and Dr. Wong Loi Sing works on both Curacao and Bonaire as a Pulmonologist, is the Director of the Savaan Diagnostic Center and also functions as an Intensive Care Specialist.
Dr. Kock states: "Our aim is to deliver treatment and preventative care in a compassionate manner, with minimal disruption to our patients' lives. Since the beginning of the Pulmonology Clinic in St. Maarten, we have seen a lot of patients with respiratory diseases, like asthma. Additionally, we have seen many patients on the island with allergic asthma and interstitial lung diseases (a disease of the lung and not the airways), patients with COPD and lung emphysema in frequent smokers. Fortunately, we can now provide the convenience of treatment for these diagnoses right here on St. Maarten".
Part of the patient care experience within Pulmonology includes patient education. "With several treatment procedures we have to teach the patients how to use their prescribed devices accordingly, when to increase dosage and when to decrease", says Dr. Kock. "We hope to continue and further grow our work here on St. Maarten and the surrounding islands for many more years to come. Improving the healthcare provided to our patients within the Pulmonology department is the ultimate goal".
Patients who wish to see the Pulmonologist can make an appointment at the Outpatient department at Tel: +(1-721) 543-1111 ext. 1300 or 1378. Appointments can be made from Mondays-Fridays between 8:00 am – 4:30 pm. SZV patients are requested to obtain a referral letter from their family doctor.