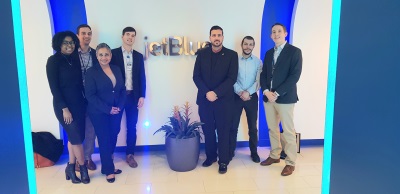 PHILIPSBURG:--- A delegation from St. Maarten headed to New York for a series of meetings which included a meeting with Jet Blue Airways. The Honorable Minister of Tourism, Economic Affairs, Traffic and Telecommunication (TEATT) Stuart Johnson and Interim-Director of the St. Maarten Tourism Bureau (STB) Mayling Chun met with Jet Blue officials late last week at their headquarters.
During the meeting, Minister Johnson presented a specially worded letter to signify the support Jet Blue provided in the aftermath of Hurricane Irma and the long-standing working relationship to St. Maarten. Minister Johnson and Ms. Chun also presented special gift bags to the Jet Blue officials with St. Maarten branding and other gift items.

Minister Johnson stated in his letter, "I would like to take this opportunity to formally extend my sincerest of appreciation to you, and the entire Jet Blue Airways team for your unwavering support and commitment to the island of St. Maarten/St. Martin. This relationship started back in 2008 with the first flight from JFK and has grown to be what it is today; daily flights from JFK, Boston, and Fort Lauderdale (FLL)."

Johnson added, "Just over one year ago, our country faced one of the worse tropical natural disasters in its history, Hurricane Irma." Hurricane IRMA severely affected all facets of life in St. Maarten, with an especial impact on our economy and tourism. In the immediate aftermath of the Hurricane, Jet Blue Airways showed us how dedicated and committed they are to return the island back to normalcy. This support will never go forgotten and will always be appreciated." Johnson went onto to say, "It was because of your swift assistance, coupled with the island's commitment to providing the best support to its patrons, Jet Blue Airways returned to The Princess Julianna Airport on November 1, 2017, operating flights twice a week, with a continued increase in frequency with routes being added to Fort Lauderdale. This is a true testament to the confidence and commitment Jet Blue Airways has to our destination." "On behalf of the Government, and people of St. Maarten, I wholeheartedly convey that we remain committed to our working relationship and look forward to growing this relationship in the years ahead," Johnson concluded in his letter. Jet Blue officials made clear in the meeting to Minister Johnson and Ms. Chun, "So far no complaints are coming from Jet Blue customers regarding the temporary facilities at the Princess Julianna International Airport." Other points for the meeting included meeting with network planning officials, marketing executives and JetBlue vacations executives to inform them of the state of the industry and the airport. Additionally, Jet Blue is satisfied with the recently launched FLL flight from St. Maarten and the load factors are good for the NYC and Boston routes out of St. Maarten. The Ministry of TEATT and STB informed Jet Blue that they will support JetBlue and JetBlue Vacations marketing campaign to cater to the various gateways. "It is imperative to support Jet Blue and all our partners in the tourism industry to continue growing our market share and develop sustainability for our tourism," May-Ling Chun Interim Director of Tourism concluded.