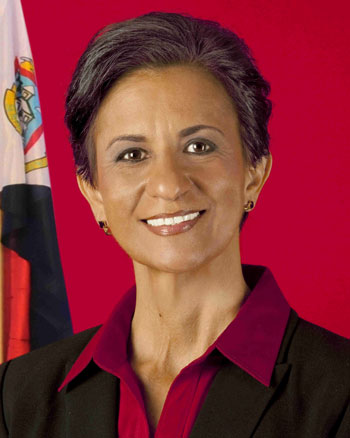 Great Bay (DCOMM):--- Prime Minister Sarah Wescot-Williams congratulates new Secretary General designate of the Caribbean Community (CARICOM) Irwin LaRocque (56) on his appointment.

The selection was announced by CARICOM Chairman Prime Minister of St. Kitts & Nevis Hon. Dr. Denzil Douglas. He reportedly said, "My colleague Heads of Government and I believe that Ambassador LaRocque possesses the requisite skills of visionary leadership, courage and commitment required to guide the Community at this time of change and uncertainty."

At the Conclusion of the 32nd Regular Meeting of the Conference of Heads of Government of the Caribbean Community, held in Basseterre, St. Kitts from June 30-July 4, the Heads of Government reviewed the recommendations made by the Search Committee for the post of Secretary General of CARICOM. They agreed to conduct interviews with the short-listed candidates within two weeks and committed themselves to making a decision on the new Secretary General shortly thereafter.

LaRocque, a national of Dominica replaces Sir Edwin Carrington of Trinidad & Tobago. He will serve as the seventh Secretary General of the regional body.

"I take this opportunity to congratulate Irwin LaRocque as designate Secretary General of CARICOM on behalf of the people and Government of Sint Maarten, and wish him much success with the responsibilities that he has been given to continue to move CARICOM forward," Prime Minister Hon. Sarah Wescot-Williams said on Friday.

LaRocque is currently Assistant Secretary General for Trade and Economic Integration at the CARICOM Secretariat in Guyana, having served in this post since September 2005.

He is also the Co-Chair of the US-CARICOM Trade and Investment Council and is leading the negotiations with the United States Trade representative office for a new Trade and Investment Framework Agreement.

The Prime Minister added that a formal congratulatory letter will be sent on Monday to CARICOM with respect to the appointment.