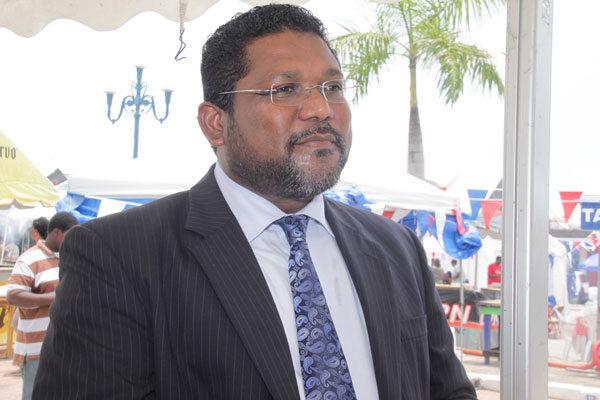 Marigot:--- Opposition leader Alain Richardson told reporters on Thursday that he feels that the President should have taken the opportunity on Bastille Day to inform the Prefet that he crossed the line when he said the Territorial Council is irresponsible. Richardson said if the Prefet knew the French Constitution he would not have crossed the line when he made his statements.
Richardson said the President should have affirmed the authority of the council in his speech but for some reason the President did not address the issue. Richardson said Bastille Day celebrations were the ideal time for the President to re-instate what is in the Organic Law stating that the Collectivity of St. Martin is autonomous. Richardson said he intends to officially respond to the Prefet early next week about the statements he made regarding the motion they presented. Richardson said that at no time they will accept the advice the Chambre Regional de Compte gave by increasing TOT by 2%. This he said would put additional pressure on those that are already contributing to the fiscal system, Richardson said St. Martin is paying the State to carry out certain services for them one of which is the collection of taxes. Richardson said the services granted by the Treasure Public are more that poor and that is what the State representative should work on. Increasing TOT will have serious repercussions on ones buying power but it also has a crippling effect on how business is conducted in a competitive market.
Richardson said the motion presented to the Chambre Regional Compte is to make sure the State enhances the State services in collecting the taxes, while the State should give St. Martin its full compensation of the Transfer of Competences.
Responding to questions as to how he Richardson feels now that elected officials are being investigated. Richardson said that from the time the Union pour les Progres took office there has been a pattern. That pattern he said has to do with the President who has to leave his seat because he was condemned by the court. He said recently the President and the DGS was condemned by the court and now a vice president and civil servant is under investigation. Richardson said he will not judge neither will he condemn anyone but the pattern nor image of the COM is not serving St. Martin well and St. Martin's leaders must follow the rules and regulations laid down. The elected he said should be the first ones to set example and therefore these matters will be part of the election debate in the next few months. Good Governance he said will be on their agenda for the upcoming year.