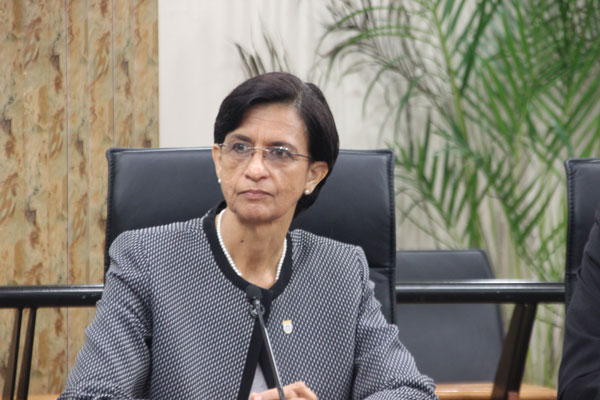 Philipsburg:--- Prime Minister of St. Maarten Sarah Wescot Williams brought some clarity to the AMFO funding which will be replaced by a local agency. The Prime Minister said there is no secret regarding her feelings on the statements that are being made on the debt relief for St. Maarten which was part of the constitutional changes for St. Maarten. She said she is of the opinion that the statements made regarding the debt relief has been overstated especially knowing what St. Maarten went through for the payment of its debts.
The Prime Minister said that St. Maarten could not borrow monies prior to 10/10/10 and the island under the constellation of the Netherlands Antilles did not have huge outstanding loans that had to be paid. Therefore, the statements regarding the debt relief being the cure or fixing prior to the constitutional change is an overstatement. AMFO is scheduled to be dissolved at the end of 2012. AMFO is the agency that manages the Dutch funding for Social Programs and projects. However, St. Maarten will implement an NGO funding agency. This decision was taken by the government of St. Maarten several months ago. She said the proposal for St. Maarten to take over the AMFO funding was done in such a way to stretch the Dutch funding. St. Maarten's government decided to take over the AMFO funding for the year 2012 which was estimated to be close to one million guilders. She said the last Dutch financing would have taken place in 2013.
The Prime Minister made clear that the Dutch government is not providing additional monies. The NGO financing agency already met with AMFO to explain them the government's position on the financing of social projects. She said what is critical is that St. Maarten has a joint project going forward which is the NGO funding and the social funding. St. Maarten will be making use of the expertise and build up that AMFO created over the years.