Good evening and Welcome to the first Queens Birthday celebration in honor of Her Majesty Queen Beatrix on St. Maarten as a country within the Kingdom of the Netherlands. The theme of this evening's celebration is "A Cultural Aubade to Her Majesty Queen Beatrix".
The celebration of Queen's Birthday, KONINGINNEDAG, in the Kingdom of the Netherlands dates back to 1890 when it was first celebrated on Augustus 31th, the birthday of Queen Wilhelmina. Since the succession of the Throne by Queen Juliana in 1948 Queen's birthday has been celebrated on her birthday on April 30th. Queen Beatrix, born on January 31th, following her coronation in 1980, decided in honor of her mother the late Princes Juliana, to maintain April 30th, as the day to Celebrate Queen's Birthday.
The initiative to celebrate Queen's Birthday in 1890 was taken to emphasize national unity. Promoting unity just over six months since obtaining the status of country within the Kingdom of the Netherlands is just as important now for Sint Maarten and for the Kingdom, as it was in 1890.
Ladies and gentlemen,
Tonight's celebration of Queen's Birthday on the eve of April 30th in St. Maarten as part of the Kingdom, has a long tradition. As a symbol of our ties with the Royal Family, Queen's Birthday celebration in St. Maarten has in past years been characterized by cultural manifestations of song, dance and games; For what better way to demonstrate notable ties than through customs and culture. This evening's celebration under the theme "A Cultural Aubade to Her Majesty" seeks to revive and continue that tradition. In carrying on that tradition it is important that we stand still and reflect on the things Her Majesty Queen Beatrix stands for and which we as the Friendly Island, are known for.
Fine and noble human virtues such as friendliness, fairness, respect and love for our fellowmen are important for Her Majesty and are the driving forces behind her thoughts and deeds; Thoughts and deeds which accentuate Her Majesty's status as the symbol and personification of unity within the Kingdom. This evening's cultural tribute of storytelling, song and dance is an expression of our appreciation for Her Majesty Queen Beatrix. It is intended to highlight some features of our community and the historic ties with the royal family.
Let us in keeping with our standing of the Friendly Island embrace mentioned principles by living in solidarity with each other and within the Kingdom as we pursue our goals of building a stronger and better St. Maarten. In appreciation of persons who display these fine human qualities Her Majesty in recognition of their kind, valuable and selfless deeds for the community places persons in the spotlight every year. It is my view that such selflessness is critical for the development of St. Maarten. Persons who selflessly volunteer their time and contribute to our community and in particular to the cultural and educational development of St. Maarten are important because they help to form a stronger, more principled people and community. Such voluntarism helps to form a people grounded in common norms and values which are critical to the promotion of the overall governance of and unity within our newly founded country, Sint Maarten.
As Governor of Sint Maarten I am therefore pleased, on behalf of Her Majesty, to recognize a number of persons later this evening, as is the custom; Persons who, in various ways have dedicated a significant part of their lives to serving, to helping and to forming others, without seeking something in return.
Esteemed guests,
At this Queen's birthday let us celebrate these fine human values and move forward selflessly to serve and build a united St. Maarten community within the Kingdom of the Netherlands. Let us do so based on shared values, united in good human principles. Lets us do so mindful of the saying: Unity is Strength.
In closing, let us use this moment and every occasion to unite, to be kinder, gentler persons and to rally for and to respect each other as a Sint Maarten people and as Citizens of the Kingdom of the Netherlands.
In the fall of this year Her Majesty Queen Beatrix, our symbol of unity in the Kingdom, will be visiting St. Maarten; A visit I am looking forward to and based on your presence this evening, I am sure you are too. Thus as we prepare to celebrate Queen's birthday this evening and anticipate her upcoming visit I conclude by wishing you an enjoyable Celebration of Queens Birthday this wonderful spring evening and continuing into tomorrow.

Thank you and May God Bless You.

 

ROYAL DECORATIONS CEREMONY 2011 INTRODUCTORY WORDS BY H.E. EUGENE B. HOLIDAY GOVERNOR OF SINT MAARTEN.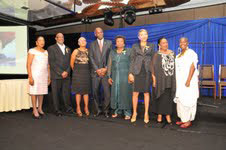 Ladies and gentlemen,
Good Evening once again. The performances of the respective artists, singers and children this evening was entertaining, wonderful; Yes simply delightful. I am sure that a number of the children in the group will, as they sharpen and develop their talents, one day be recipients of Royal Decorations.
As I said in my welcome address, every year Her Majesty recognizes persons in the community for their selfless and valuable contributions to society. Traditionally this is done on April 29th and it is my honor as Governor of Sint Maarten to represent Her Majesty and present Royal Decorations to a number of persons this evening. But before doing so, I will like to use this opportunity to thank the members of the RODAC committee for their preparatory work in identifying eligible persons for Royal Decorations. My Sincere thanks to each of you for your contributions in helping make this evening possible.
Moreover I will like to use this opportunity to say a few words about the Royal Decorations and about who qualifies for Royal Decorations.
Eligible persons for Royal Decorations can receive a decoration from one of the two civilian orders of the Netherlands.
The first is the Order of the Lion of the Netherlands which can be bestowed on people who have rendered exceptional services to the community, often through achievements or efforts stemming from special talents that are of great public benefit. The Order of the Lion of the Netherlands is divided into three classes of Knighthood, namely: Knight Grand Cross, Commander and Knight
The second is the Order of Orange-Nassau which can be awarded to people who have rendered outstanding services to the community for a considerable period. They are often people who carry out voluntary work for civil society organizations. The Order of Oranje-Nassau which is divided into six classes, namely: Knight Grand Cross, Grand Officer, Commander, Officer, Knight and Member.
The RODAC Committee has in the past year gathered the pertinent information on several eligible persons residing on St. Maarten and prepared an advice for Royal Decorations for the Council of Ministers. For these persons, I as Governor, based on a nomination from the Council of Ministers, made recommendations to the responsible Minister in the Netherlands for a final decision. Having in turn received advice from the Advisory Council of the Civil Orders, the responsible Dutch minister has decided positively, leading to the granting of the Royal Decorations by Royal Decree.
It is my pleasure to inform you that tonight I have 7 signed Royal Decrees awarding Royal Decorations to persons in the Order of Oranje Nassau for outstanding services rendered to the community for a considerable period. I am therefore honored, on behalf of Her Majesty Queen Beatrix, to in the next few minutes move to pin the respective Royal Decorations on the deserving candidates.
I will therefore like to call on Mr. Havertong to the read the individual profiles based on which it was decided to bestow Royal Decorations to the individual candidates.