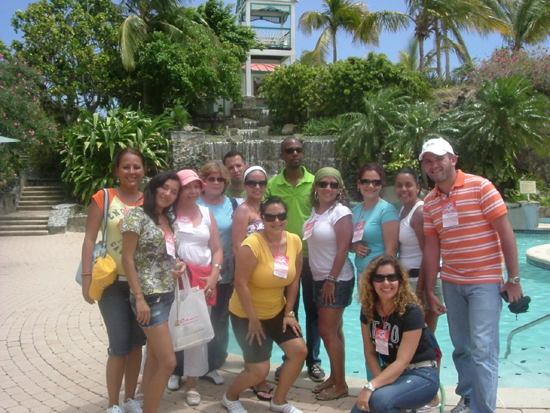 Great Bay: ---A group of 12 travel agents recently visited the island on a familiarization trip organized by All Ways Tours, a Valencia-based tour operator in Venezuela in collaboration with Insel Air. The group was hosted by the St. Maarten Tourist Bureau.
The group arrived Saturday, July 11 aboard Insel Air flight 7I 531 from Valencia, Venezuela, via Curacao, and immediately proceeded with site inspections at Sonesta Maho Beach Resort, Sonesta Great Bay Resort and Divi Little Bay Beach Resort before checking in at the Westin Dawn Beach Resort, Spa and Casino, where they stayed until their departure on Tuesday, July 14, 2009.
In total, the Venezuelan travel agents conducted about eight site inspections and managed to find time for some recreational activities, especially on Sunday, when they were able to take a snorkeling tour of the island.
"We had a wonderful time and hope to return with a lot of clients to enjoy the pleasures and live the unforgettable experience of your fantastic island," commented leader of the group, Linda Labastidas of All Ways Tours.
"St. Maarten is very unique and has lots of beautiful attractions that will make it easy to sell to Venezuelan travelers," added Brenda Aguilar, one of the travel agents on the familiarization trip.
Several of them promised to return on private visits for R & R later in the year, with a few already setting dates for their vacation here.
"It's my first time here and I am surely coming back," said Noliber Sulbaran.
Another member of the group, Jose Manuel de Ascencao described St. Maarten as "a hidden paradise."
"Well, no more," he said. "The whole of Venezuela will hear about this treasure in the Caribbean."
The group was ecstatic as they were featured by surprise on the popular Spanish-language radio program, "Fiesta Caribe," whose host, Ricardo Rey, welcomed them to the island live on air Monday on 105.5 FM of the Laser radio network.
"I was so stunned that I was almost speechless," said Jualy Lopez, who was interviewed live on the program via cell phone connection while returning from a site inspection.
She said the group was very impressed with the island and had a marvelous time. "This is a dream experience; simply fantastic," she added.
The St. Maarten Tourist Bureau has been actively nurturing the Venezuelan market, which it sees as a potential growth market that will allow further penetration of the Latin American market.