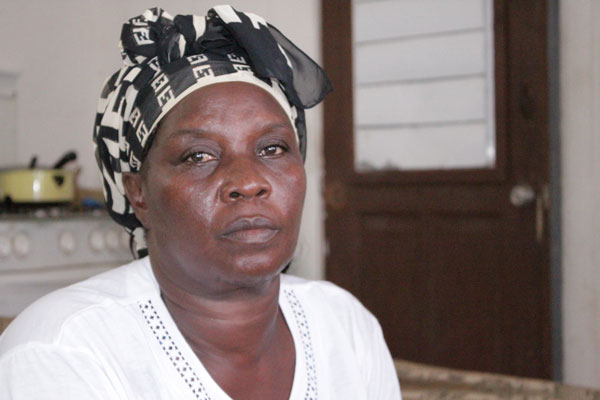 Middle Region: --- Relatives of Clemencia Josi-anne- Julot who was brutally murdered sometime before July 2 is running out of patience as they wait for two visas to lay to rest their beloved daughter.
In an interview with SMN News on Sunday, Julot's mother Viergenie Julot and her Father Clemente Zepher said that they requested two visas for relatives to attend the funeral but to date they have no answer from their request.
The elderly Julot who is currently ailing from a heart and lung disease said she wanted her son who lives in Haiti to come and see his sister before they bury her. The woman said they also requested a visa for a cousin to come for the funeral because her son if he gets to come to St. Maarten would have to leave shortly after the funeral. Julot said the reason she need her niece to come to St. Maarten is because she would need someone to travel back to Haiti where she is currently taking treatment.
Since the brutal slaying the family said detectives have been visiting their home constantly trying to clues as to who would murder the young woman. Clemente Zepher said the detectives even ask him for a DNA which he provided. Zepher said if it means giving his life so police can find his daughter killers he would do just that.
According to well placed sources Clemencia Josie-anne Julot was found with some 87 stab wounds about her body and her hands were tied behind her back. Zepher said he does not even know if the police and gendarmes finished with the body and if he could go ahead with the funeral arrangements. He said the Collectivity of St. Martin issued a death certificate but they did not tell him if he can make funeral arrangements.
Asked about this on Sunday Prosecutor Rienk Mud said he did not have any news on the case. Mud said he was off this Sunday but hopefully he would be able to provide some information on Monday.