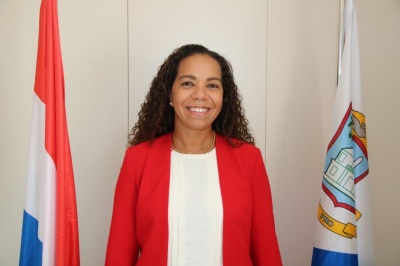 PHILIPSBURG:--- The arrivals of passengers on St. Maarten have surpassed the numbers that were registered in May 2019 announced Minister of TEATT Ludmilla de Weever. The Minister said that as of Sunday, June 13th, 2021 there were 9336 that passed through the Princess Juliana International Airport (PJIAE). The Minister made clear that those passengers were not in transit passengers but in fact, they were all staying over passengers, which gives the indication that St. Maarten is indeed heading in the right direction.
The Minister said the May 2021 arrivals recorded is at 85% of May 2019 figures, meaning that the 2021 figures already surpassed 2019 when the island was recovering from Hurricane Irma. Right now, there have been 108% figures registered in US arrivals excluding residents.
This the Minister said shows that St. Maarten made the right decisions to reopen early and to also put the regulations and protocols in place to curb the transmission and spread of the coronavirus. She called on the businesses and people of St. Maarten to abide by the laws in place so that the island can fully rebound after the pandemic that has affected the world.
The Minister said that as of this Saturday an inaugural sailing cruise will take place with Wind Star Cruises. Star Breeze that carries up to 312 passengers will be kicking off their sailing from St. Maarten where they are now homeporting.