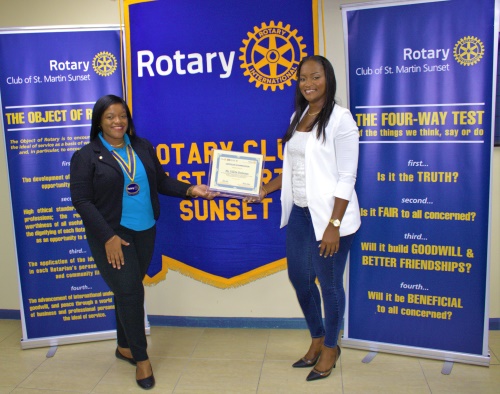 PHILIPSBURG:--- As part of Rotary International core values, May signifies Youth Service month, and as such, the Rotary Club of St. Martin Sunset had the honor of having 1st Vice President of Saint Martin's Territorial Council, Ms. Valerie Damaseau as its guest speaker during their general meeting held on May 24th, 2021.
During this meeting, various youth service groups were present at Carl N Sons Conference Room and via Zoom where the club also conducted a Youth Service Excellence Award Ceremony. Ms. Damaseau served as the ideal guest speaker as her message was based on the topic, "Having an Attitude of Growth, Self-development and Becoming the Best Version of Ourselves". She delivered a dynamic motivational speech that highlighted the importance of foundations and community building for continued success among the youths and shared examples of methods to apply. At the end of Ms. Damaseau's speech, all attendees were left inspired with an added drive to continue assisting our youth in all their endeavors.
Ms. Damaseau has always been passionate about the needs and goals of the people in Saint Martin especially the youths. A child of the eighties, she was born and raised in the heart of Saint Martin. At the extraordinarily young age of 7, she became engaged in civic activities, eventually overseeing several associations directly link with youths. Elected in 2017, Ms. Damaeau is the youngest 1st Vice President of the territorial council with responsibility for tourism, as well as the division of youth, sports, and cultural affairs.
"Youth Service is Rotary's five official Avenue of Service, and Rotary Sunset believes that empowered youths stand the chance of succeeding in society unlike those who lack such opportunity. Therefore, given Ms. Damaseau's keen interest when it comes to youth empowerment, it was imperative that we have her as the night's speaker to uplift and bring hope to all youths present, and to provide tips on what organizations such as Rotary can do to assist in youth empowerment for them to attain greatness," Rotary Sunset's President Elisia Lake stated.
President Lake thanked Ms. Damaseau for her dedication to our country and its youth, words of encouragement and motivation to the club members and youth groups present, and presented her with a certificate of appreciation on behalf of the Rotary Club of St. Martin Sunset.
The Rotary Club of St. Martin Sunset meets every second and fourth Monday of the month at Carl N Sons Unique Inn and Conference Facilities in Cole Bay at 7:30pm. Due to COVID-19, the club currently meets via Zoom. The club can be contacted via email at This email address is being protected from spambots. You need JavaScript enabled to view it. or via the official Facebook page at Rotary Club of St. Martin Sunset.