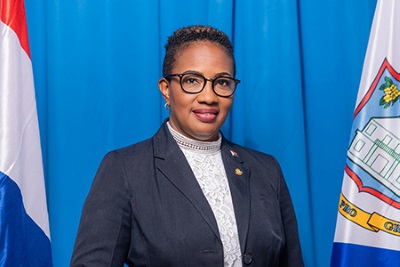 ~ Continues round of meetings with key stakeholders in The Hague ~
The Hague, Netherlands:--- On Wednesday, May 26, and Thursday, May 27, Prime Minister Silveria Jacobs met with various members of the Second Chamber's Kingdom Relations Committee chaired by Member of Parliament Jan Paternotte. Prime Minister Jacobs used the opportunity during these two days to provide the committee members with information on many high-profile topics currently affecting Sint Maarten. Prime Minister Jacobs began her presentation by acknowledging the role that the committee indirectly plays in decisions made that affect Sint Maarten and in holding the Dutch Kingdom Council of Ministers accountable.
As most committee members are newly appointed, it was vital to provide them with some historical background as to how the tumultuous relationship between Sint Maarten and the Netherlands has developed over the years. The committee members were also particularly interested in the corporate governance issues surrounding the Princess Juliana International Airport (PJIAE), World Bank projects, and the vaccination rollout program.
During the meeting, Prime Minister Jacobs expressed that, as predicted by the Sint Maarten government at the time, the World Bank has proven to not be the most efficient vehicle for rapid reconstruction after a natural disaster of 2017. The procedures adhered to by the World Bank, including the various stages in preparing a project on average, can take up to 18 months. This coupled with many delays with insurance, bondholders, and court cases added to the delays in the start of the Airport Reconstruction Project.
As for the corporate governance situation at the airport, Prime Minister Jacobs explained that the Government of Sint Maarten, as a shareholder, has been taking the necessary steps to structurally improve cooperate governance within the confinement of Sint Maarten's legal framework. As such any actions taken by the Shareholder can only be done after having done its due diligence and securing solid evidence.
Prime Minister Jacobs indicated that the meeting was an overall promising engagement and that she intends to keep the dialogue ongoing as often as possible as it is important that the committee remains informed in reference to high profile topics on Sint Maarten which they may deliberate on, and through which they can hold the Ministers and State Secretaries accountable for actions taken in relation to the smaller countries within the Kingdom.