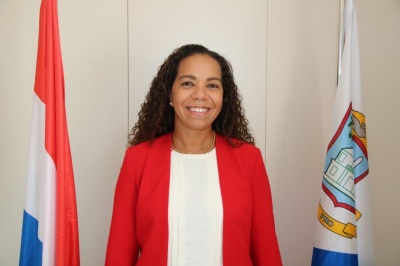 ~UK variant rampant on the ABC islands, businesses warned to take necessary precautions.~
PHILIPSBURG:--- The Council of Ministers have decided to scale back the business hours for nightlife as of April 14th, 2021 announced the Minister of TEATT Ludmilla de Weever during the Council of Minister's press conference on Wednesday. Nightlife businesses will be required to close at midnight as of April 14th.
De Weever said while the scaled-back hours will go into effect as of April 14th, she said nightlife businesses should take warning and either curb or cancel all planned activities that would have mass gatherings.
The Minister further stated that the controllers from Economic Affairs, VSA, and Justice have been conducting controls, especially during the Easter weekend. The Minister made clear that the controllers are not out there to menace businesses but in fact, they are doing their best to safeguard the lives of everyone on St. Maarten/St. Martin. Asked what measures were taken against the businesses that had huge gatherings and their patrons not respecting the COVID-19 guidelines. The Minister said the controllers issued process verbal's and warning while they also gathered valuable information.
The Minister further explained that government could not implement the new decisions from one day to the next due to the fact that businesses need the time to adjust their work schedules for their employees.
The Minister said that these decisions are necessary to further protect the tourism economy since St. Maarten has increased homeporting for the past months and government can in no way jeopardize the economy of the country. She said St. Maarten has seen an increased amount in homeporting even through the hurricane months and felt that the island needs the much-needed revenue. As the acting Minister of VSA De Weever called on the community to be mindful of what is taking place in the neighboring islands with the increased spread of COVID-19 especially the UK variant that has been identified on these islands. The Minister said St. Maarten has to do everything necessary to avoid the rapid spread of the virus that could also lead to a shutdown of the island.
De Weever also announced that the government of St. Maarten has decided to assist their sister islands by accepting their non-COVID-19 patients in order to create the much-needed bed spaces on those islands.