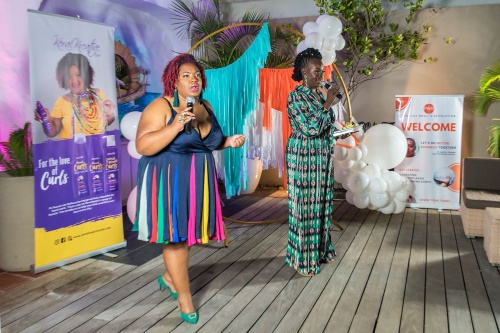 ~Kerai Kreative Style brought together dynamic women to empower and inspire them to thrive~
PHILIPSBURG:--- On February 27, 2021, Kerai Kreative Style, an internationally awarded blog hosted its first Sip, Chat, & Strategize to celebrate its five-year anniversary. This event brought together dynamic women business leaders in the arts, nonprofit, fitness, and food industries. Co-hosted by founder, Kenty Lichtenberg and Ife Badejo of Produce Wealth Revolution (PWR) Agency, this experience gave an opportunity for these women to connect, gain strategies to progress in business and life, and get inspired by the ambiance of Holland House Beach Hotel including food and drinks.
Due to COVID19, the organizing team ensured that this event had a limited number of persons in attendance and that there was a nurse's station with nurses to help take temperature and sanitize upon entry. As women checked in, welcome drinks were made available and provided by one of our main sponsors: Webb Banks.
This all-women event served as a pre-International Women's Day (IWD) event as it was postponed earlier due to the effects of COVID 19. Member of Parliament, Honorable Ms. Ludmila Duncan who also sits on the parliamentary TEATT committee gave the official opening address. MP Duncan shared the importance of being entrepreneurial as women and the challenges they face in doing so while fulfilling all other commitments including raising families. MP Duncan also tied in this year's IWD theme, "Choose to Challenge" by inviting the women to challenge the status quo in them, in their communities, and also in parliament.
After the official opening Ife, no stranger to interactive networking and training, kicked off the evening with an icebreaker and a 'strategize' session focusing on what the women will start, stop, and continue. This method is a powerful tool to gain clarity on the next steps. This strategy was employed in a group manner and at the end the women collectively agreed on what key points they would stop, start, and continue to grow in 2021. The second strategize session included the women individually writing down their vision for 2021, what they need, and what they will commit to.
The evening also included artistic expressions by two creative entrepreneurs: Shiloh, a rising dance talent on the island, and Cristal LeGrand, from LeGrand Expressions with her unique handmade jewelry. Shiloh
(14) donated her talent to this event and regularly raises funds to go to international dance camps by hosting dance courses off-island. Having been inspired by our very own Nicole de Weever and helped by her directly, Shiloh hopes to one day be a professional dancer and teacher.
Cristal LeGrand hosted the jewelry fashion show, showcasing her unique handmade pieces that are mostly cloth-based. She rolled out her latest collection while also giving homage to her signature zipper collection, where the jewelry, predominantly necklaces, is made from zippers.
The night ended with a toast to happiness, health, wealth, wisdom, and the best year yet. Music throughout the night was provided by DJ Arsenic. Partners included Prime Distributors, Webb Banks, Holland House, TelEm N.V., Office World, CC1 SXM, Mionetto, Svedka Vodka, Kit Kat, Head & Shoulders Royal Oils, Nestle, Holland House Beach Hotel, Islandpreneur & Be Your Own Brand.
Due to the overwhelmingly positive feedback from those in attendance, another Sip, Chat, & Strategize will be scheduled. For more information, email This email address is being protected from spambots. You need JavaScript enabled to view it..