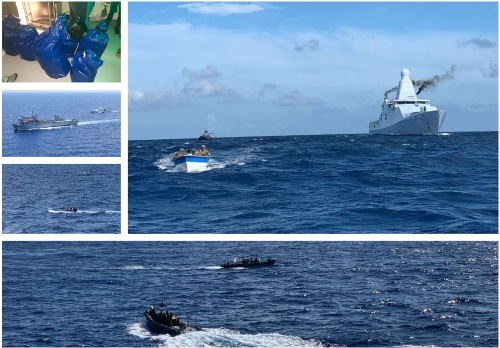 WILLEMSTAD:--- HNLMS Groningen has again stopped 2 drug shipments in the Caribbean. This concerns the 4th and 5th catch within a month. Last Saturday, the navy ship intercepted almost 284 kilos of drugs, and on Monday even 1,720 kilos of cocaine and 29 kilos of crystal meth.
How much was actually taken off the market cannot be said with certainty. During the catch last weekend, the suspects managed to throw everything overboard before they could be stopped. At least 284 kilos have been fished out of the water.
The suspected smugglers dumped the cargo from their go-fast when they saw an on-board helicopter from the English naval vessel RFA Argus. They then took off but were overtaken by 2 FRISCs. These fast interception boats were deployed by the Groningen.
No drugs were found onboard other than the cargo fished from the sea. The 3 suspects have been handed over to the US Coast Guard.
Double stroke
Monday was another hit. Together with the RFA Argus and her helicopters, the navy patrol ship managed to stop another go-fast.
Also this time, the FRISCs of the Groningen caught up with the suspects. Several bales of contraband were found near the drug boat. The cocaine and crystal meth were confiscated during this interception.
HNLMS Groningen will be active in the region as a station ship in the Caribbean from July 2020. The ship will combine counter-drug operations with the support of the Caribbean Coast Guard. This month, the Groningen, in collaboration with international partners, managed to intercept a total of 1 ton of cocaine in 3 previous campaigns. This brings the total for this month to about 3 tons.