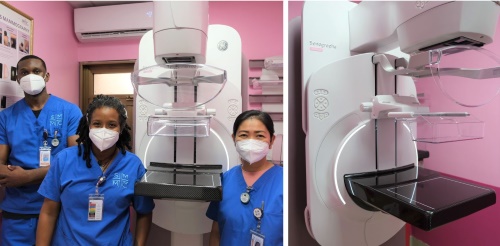 ~ New the state-of-the-art mammography machine named Time Magazine's Best Inventions in 2019~
CAY HILL:--- St. Maarten Medical Center (SMMC) is pleased to announce the arrival and installation of their new GE Pristina Mammography Machine and the resumption of its mammography service. The machine, which has been operational since September 1st, 2020, is the state-of-the-art mammography machine that features superior diagnostic accuracy, 3D imaging, and an FDA seal of approval and has been named one of Time Magazine's Best Inventions in 2019. In addition to its innovative features, the new machine offers a more pleasant and less intense experience for patients and is right on time for Breast Cancer Awareness Month.
As of September 1st, patients who were placed on the waiting list were scheduled for their exams along with urgent cases. New requests were scheduled accordingly to handle the backlog of patients due to the previous machine being down and the local surge of COVID-19 cases. Prior to the arrival of the new machine, patients were given a referral to the French side to conduct their mammograms but since September 1st, these referrals to the French Side have ceased.
SMMC's Manager Patient Care and Education, Mr. Antonio Pantophlet said; "We are extremely happy to have this new machine in service as it allows us to continue to provide quality care to the people of St. Maarten, Saba, Statia and the surrounding islands, close to home".
"In light of the COVID-19 pandemic, unfortunately, this year our observance of breast cancer awareness month looks a bit different than usual but nonetheless, we still intend to spend the month of October doing all we can in close collaboration with the Positive Foundation and the Elektralytes Foundation to increase breast cancer awareness on the island of St. Maarten", concluded Mr. Pantophlet.
SMMC thanks all patients, the General Practitioners, and the insurance companies for their patience and understanding while they awaited the arrival of the new machine. SMMC also extends their gratitude to Dr. Bartoli and the Centre d'Imagerie Medicale on French Saint Martin for accommodating patients' mammography exams in the interim.
SMMC is proud to have this new, state-of-the-art machine in service and urges all patients interested in a mammogram to visit their General Practitioner to obtain a referral letter. Appointments can be made by calling the Radiology Department at Tel: +(1-721) 543-1111 ext. 1360 or 1367 from Monday - Friday between 8:00 am – 4:00 pm.