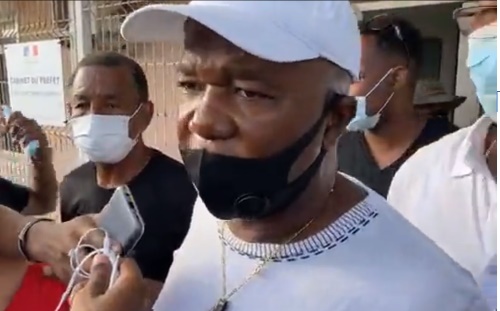 ~ Residents must take responsibility with social distancing.~
MARIGOT:--- Préfet Délégué Sylvie Feucher buckled to the pressure of the people that united on Wednesday morning in a protest march against the border controls.
Around 4:30 pm the delegation representing the Soualiga United Movement exited the Prefecture and informed everyone there that the Préfet has agreed to remove all border point controls as of immediately however, the containers that were placed at Oyster Pond and Lowlands will be removed as early as Thursday, September 17th. Lenny Mussington said that the Préfet made clear that the population has to take full responsibility when it comes to social distancing to lower the spread of the coronavirus. Mussington said that he wants the people to know that when people are united they can never be defeated and that the joint protest march did serve its purpose.
Aline Choisy also a member of the delegation said the Préfet informed them that the ARS will be meeting on Tuesday with CPS where they will work on a joint agreement to put in place a joint command center that will handle the testing for the COVID-19.
In the meantime, the Prime Minister of St. Maarten Silveria Jacobs along with her delegation is scheduled to meet with her French counterparts on Thursday, September 17th, 2020.