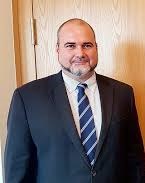 PHILIPSBURG:--- Dutch representative on St. Maarten Chris Johnson has tested positive for COVID 19. Johnson posted that recently he had a meeting at work with an individual who also tested positive for COVID-19. He said upon hearing the news he along with his family took the necessary actions. So far, Johnson is the only one in his family that tested positive for COVID-19. He is St. Maarten's number 50th who tested positive.
His father Will Johson also posted on his Facebook status about his son catching the COVID-19 though his line of work.
Below is the post made by Chris Johnson.
Hello,
I just wanted to update you all on a personal situation that has arisen. Recently I had a meeting at work with an individual who tested positive with Covid-19. Upon hearing the news I, along with my family and colleagues, took action. I contacted those I had been in contact with and also isolated myself further from my immediate family. On Wednesday evening July 29th I developed COVID-19 symptoms. Through CPS I was tested and I have tested positive.
However difficult it has been to have the virus I must say I am thankful for many things. I am thankful that no one so far that I had been in contact with has developed symptoms, including my wife and children. I am also thankful that my exposure happened more than a week after the medical visit of my parents from Saba, and two weeks after my visit to the island of Statia. I say this also because I want people of both islands to know that my exposure has had no overlap with either island whatsoever.
In addition to that I'm thankful for the support of my family and close friends during this time, along with my colleagues.
I would like to ask everyone to remain vigilant and if you happen to come in contact with COVID-19, take the necessary steps to inform others and protect those around you.