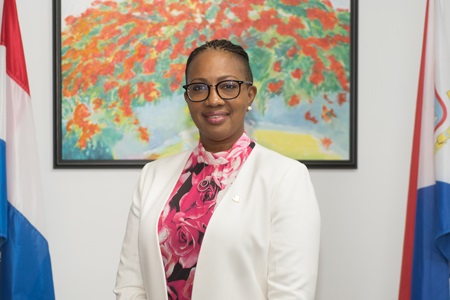 ~ Called on Residents to exercise caution as St. Maarten cannot afford 2nd shutdown.~
PHILIPSBURG:--- Prime Minister of St. Maarten Silveria Jacobs got emotional during the weekly council of ministers press briefing when speaking about the 15 COVID-19 deaths in St. Maarten. Jacobs called on the people of St. Maarten to continue to practice social distancing and all other guidelines as the island begin to return to some normalcy since the shutdown in March 2020. She said St. Maarten simply cannot afford another shutdown because this will allow others to trample on the island because they are in a better financial position. Clearly, the Prime Minister was referring to the conditions placed on St. Maarten by the Dutch Government for liquidity support.
So far 77 persons were tested positive for COVID-19, of which 62 recovered fully, 15 persons died and 1 person is still positive. For the past 37 days St. Maarten only has one active case and hopefully, the island will be COVID-19 free.
Jacobs reminded residents that the 11 pm curfew is still in effect even though churches and bars are allowed to resume their activities. She said the country is still in a vulnerable stage and as such precautions must be taken each step of the way. Prime Minister Jacobs said the virus is still a threat around the world and negligence will cause the virus to spread which will ultimately lead to a shutdown that St. Maarten cannot afford.