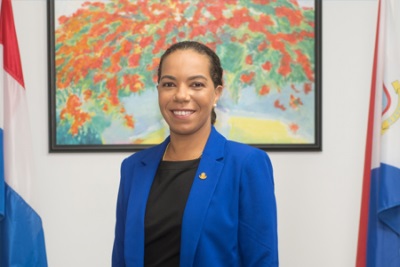 PHILIPSBURG:--- Minister of TEATT Ludmilla de Weever announced that St. Maarten is looking at July 1st to reopen its airport to all flights. Minister de Weever said St. Maarten is taking all the necessary precautions to ensure there is no resurgence of the COVID-19 virus on the island. The Minister said only now St. Maarten is returning to some type of normalcy students and residents that are stuck overseas and would be returning to the island during the month of June will have to abide by the 14 days mandatory quarantine that is in place when the state of emergency was declared.
Minister de Weever said persons that are currently entering St. Maarten for the boats must also comply with the quarantine requirements while persons that are picking up their vessels must leave within a 24-hour time frame. The marine protocol has also been finalized and implemented thus showing some increased activity in the Simpson Bay lagoon.
De Weever said that by June 15th St. Maarten should be able to finalize its internal deadline while efforts are being made to resume flights with the country sister islands such as the BES islands, St. Barths, and Anguilla, as long as these islands are also free from COVID-19 cases.
The Minister called on businesses that are now allowed to reopen their doors to ensure they follow all guidelines in place for COVID-19 to ensure there is no resurgence of the virus on St. Maarten.