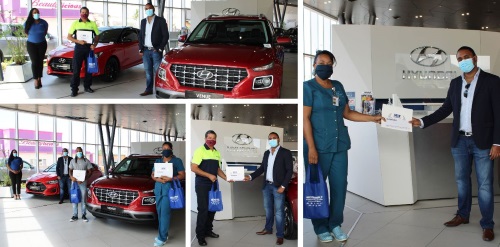 PHILIPSBURG:--- Motorworld's "Honoring Our Frontline Heroes" campaign generated an outpouring of love and support for countless employees who sacrifice their lives and time to work on the frontlines during the battle against the COVID-19 pandemic.
"The impact of the COVID-19 pandemic caught us all by surprise. During a time of uncertainty and socio-economic unrest throughout our community, we felt it was necessary to launch this initiative to create a lasting positive impact," shares Tariq Amjad, Managing Director, Motorworld Group of Companies. "The great community support showcased the goodwill and humanity that we share for each other. Though tributes were provided to a select few, and four amazing individuals were chosen as the winners of the social media campaign, we would like to express our heartfelt gratitude to EVERYONE who works on the frontlines in various capacities. It is through working together and uplifting each other, that we shall overcome together.
Many of the frontline heroes that were featured go above and beyond the call of duty. Therefore, Motorworld Group was honored to highlight the tireless efforts of those individuals by sharing positive and uplifting stories as a special tribute about their courage, sacrifices and contributions.
Over the four weeks of the "Honoring Our Frontline Heroes" campaign, the following individuals were nominated with heartwarming tributes:
- Marvienne Adoptie
- Alvin Arrundell
- Cheryyann Arrindell
- Abigail Athanase
- Franck Bannis
- Marsha Bremer
- Sonia Campbell
- Jessica Cannegieter
- John Caputo
- Ramon Chin-Ten-Koei
- Alden Conner
- Shamire Connor
- Yoainna Delain
- Alexdiana Dormoy
- Davinia Samuel Gabriel
- Tyrell Gabriel
- Geraldine Gaspard Brooks
- Anthony Godet
- Iris Hakkens
- Sandra Hassell
- Meandra Hazel
- Lloyd Heinze
- Jean Illidge
- Jocelyn Joseph
- Gladice Labady
- Eddy Lake
- Arcella Leonard
- Cherly Leonard
- Vanessa Martina
- Reangelo Martiena
- Elroy Morris
- Otis Pantophlet
- Windellee Patterson
- Christine Peiser
- Zamora Perez
- Ryan Peterson
- Rosiana Prosper
- Bernice Richardson
- Shanna de Riggs
- Davina Samuel
- Terry Sergeant
- Marina Serrant
- Sylma Serrant
- Sheldon Simpson
- Chalmarie Vlaun
- Donna Wint
- Sharina Woodley
Motorworld Group takes this opportunity to recognize, thank and congratulate all of these frontline workers, and many others who have gone above and beyond to serve our communities. "We truly appreciate ALL courageous frontline workers for everything that you do to ensure that our community is kept safe in our plight against the COVID-19 pandemic. Every single person that has been nominated during these four weeks are ALL deserving," shares Amjad.
Further, we are honored to congratulate the following individuals who were selected by the community as the proud winners of Motorworld's "Frontline Heroes" awards:
Meandra Hazel
Sheldon Simpson
Terry Sergeant
Ryan Peterson
Through this special campaign to recognize and honor local heroes who are diligently working on the frontlines every day, the winners have all been presented with the following prizes, as a token of appreciation from Motorworld:
- $250 Voucher for Motorworld/ Caribbean Auto/ Audi 𝐏𝐋𝐔𝐒,
- $250 Voucher for a Grocery Shopping Spree 𝐎𝐑,
- $250 towards their GEBE Utility Bill.

"We would like to express our heartfelt thanks to the community for sharing their tributes and stories with us and for giving us the opportunity to shine light on these wonderful individuals, and in essence, ALL frontliners who are selflessly putting themselves at risk for the greater good,' shares Jacqueline Louis, Marketing Management Consultant, Motorworld Group of Companies. "As we cannot thank everyone enough, once again, we extend a heartfelt THANK YOU! You are all appreciated for your essential services to the community of St. Maarten/ St. Martin in the battle against COVID-19. Working together we all win!" shares Louis.
As the island begins to drive forward into the future, let us remain vigilant and continue to do our part. Continue to practice good hygiene habits, maintain social distancing and wear a mask, following the proper guidelines.