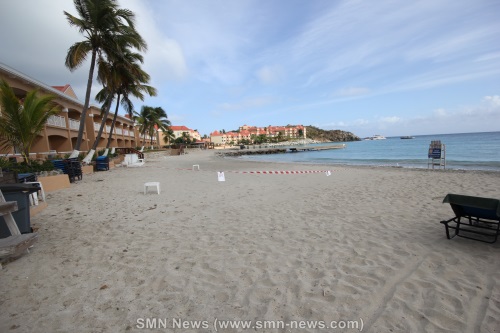 ~ Marines blocked beach access and access to Fort Amsterdam.~
PHILIPSBURG:--- Residents on St. Maarten are not allowed to use a section of Divi Little Bay Beach as the Marines that are currently housed at the hotel ensured the placed a tape blocking local residents from using parts of the beach that they are allowed to use as they vacation on St. Maarten.
The access road to Fort Amsterdam is also blocked with the same red and white tape that is placed throughout parts of the property.
SMN News visited the location and spoke to some residents that took their children to the beach as they try to escape the heat and destress from the deconfinement.
A former Member of Parliament and also Minister told SMN News that he was personally stopped on Wednesday by the marines who claim to be in possession of the country's beach policy. The former MP, Minister, and currently a senior civil servant dispatched a letter to the Chief of Police asking him to look into the matter since all beaches and the access road to the fort must remain open at all times.
Click here to see more photos.