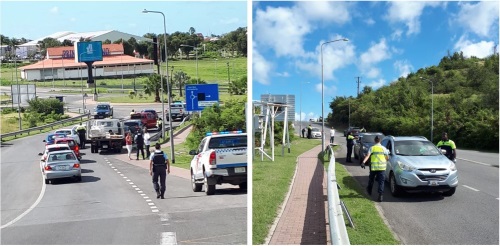 PHILIPSBURG/ MARIGOT:--- The Gendarmes and members of the Police Force (KPSM) are busy conducting a road control at the Bellevue border as announced by Prime Minister Silveria Jacobs.
Police Spokesman Inspector Joe Josepha said that borders are not blocked but the controls are aimed at keeping people off the road and in their homes as the island is fighting to combat the COIVID-19 virus.
Josepha said that both sides have been calling on persons to stay at home however there are people on the road constantly. He said the Gendarmes have been conducting controls for the past two weeks and now KPSM have joined them.
Josepha said the videos and voice notes that are circulating on social media stating that the border is close is nothing but fake news. However, he cautioned that residents should stay at home to avoid the spread of the COVID-19.
Joint French and Dutch side border controls.

On Friday morning March 27th, 2020 around 08.00 am the Sint Maarten Police Force together with Gendarmerie Nationale carried out joint controls on the French/Dutch borders of the island.
The main reason this joint control is to enforce the restrict movement of persons that have been implemented as a preventative measure to avoid the further spread of the coronavirus COVID-19.
The Dutch and French counterparts conducted their first control in the area of the roundabout leading to Belle-Vue. During this control over 50 vehicles were stopped and one person arrested for driving with a false driver's license. The Sint Maarten Police force police and Gendarmerie Nationale will be carrying out more of these joint controls in the future
KPSM Press Release.