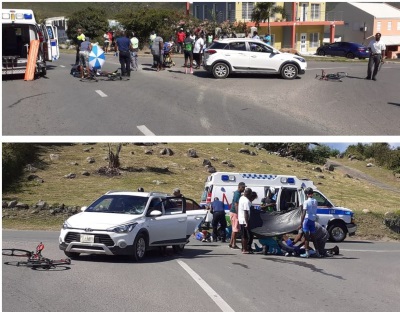 PHILIPSBURG:--- The traffic department of Sint Maarten is presently investigating a traffic accident involving a vehicle and two bike riders. The incident took place on Wednesday morning March 18th about 09.45.am in the area of Belvedere. The bikers were riding on the A.th Illidge road going towards French Quarter.
According to the information, the driver of a White Hyundai I-10 was going from the Tata roundabout towards Bishop-Hill road. At the same time, the bike riders were on Bishop hill road going towards the roundabout. The driver of the vehicle tried to turn left into Belvedere without giving right away to the two bike riders
The two bicycle riders were unable to brake in time and crashed into the car that was making a left turn going into Belvedere. As a result of the collision, both riders suffered bruises and contusions their body. They were treated at the scene by the personnel of the ambulance and transported to the Sint Maarten Medical Center.
The personnel of the traffic department is investigating this accident.
KPSM Press Release.