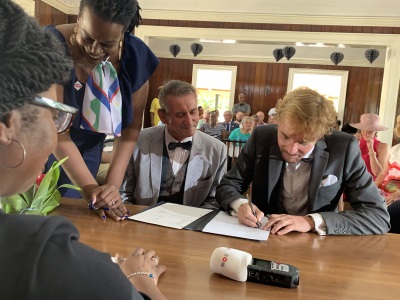 This weekend, another island was added to the Caribbean territories where same gender weddings are celebrated. On the Dutch Caribbean island of St. Eustatius, born and raised Statian Walter Hellebrand (monuments director of the island) married his lifelong partner, Chris Russell, a freelance commercial writer. The chair of the College for Human Rights of the Kingdom of the Netherlands, Adriana van Dooijeweert, was the speaker at the wedding on the island whose island council in 2010 adopted a motion against inclusive marriage. St. Eustatius is the last part of the Caribbean Netherlands where such a wedding is celebrated. On Bonaire and Saba, they took place already.
When the new marriage law was introduced on St. Eustatius in October of 2012, the acting island governor reacted: "So it's possible now. But that's no problem because no Statian will make use of it anyway." Not coincidentally, St. Eustatius is the only island of the former Netherlands Antilles without any LGBT+ organisation.

Hellebrand, a historian, finds it important to break this informal ban: "I think by now the island has become ready for it. And it is an important signal: on St. Eustatius itself but also in the wider Caribbean region where equal rights for the LGBT+ community still have a long way to go. Hellebrand's partner Russell comments: "Many reactions we got were surprisingly positive. It definitely seems that the uneasiness about it is wearing off little by little."
The Netherlands' Human Rights Chair Van Dooijeweert commented: "This is also important as a message to young people who may struggle with their feelings. Whatever the result of their struggle may be, they should not feel that the one outcome means they are second rate, a marginalized group for which a special arrangement was made. No: we all have access to the same options. And that includes marrying. Pledging one's love to another is the same no matter the gender combination. Love is love."