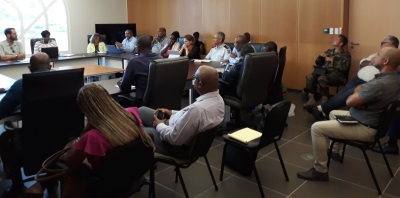 PHILIPSBURG (DCOMM):--- Disaster Coordinator and Fire Commander Clive Richardson, is thankful that the nation has been spared the full onslaught of a major hurricane for the 2019 Atlantic hurricane season which officially comes to an end on Saturday, November 30.

The six-month 2019 season started to get busy from mid-August through October. An average season has 12 named storms; six hurricanes; and three major hurricanes.

The 2019 season produced 18-named storms, that included six hurricanes of which three became major (Category 3, 4 or 5) systems.

"I am thankful that as a community we were able to make it through this Hurricane Season without any major incidents.

"Our nation's Disaster Management Organization of 10 Emergency Support Functions was activated several times due to a potential threat in order to properly prepare the nation for any storm impact.

"I would like to say thank you to our residents, guests and the business community for taking all the necessary precautions and being diligent in their preparations during 2019 season.

"I am asking everyone to stay diligent as there are other natural disaster events or manmade disasters that can occur. Always be prepared by having an emergency kit and plan in place similar to the preparations that you take during the hurricane season.

"May you and your family safely enjoy the upcoming holiday season," Disaster Coordinator Clive Richardson told the Department of Communication (DCOMM) on Friday.

The country's Emergency Operations Center (EOC) and the Office of Disaster Management were activated and or issued advisories to the public on three occasions during the season.

This was related to Tropical Storm Dorian in August, Hurricane Jerry-September and Tropical Storm Karen-September.

According to the U.S. National Oceanographic Atmospheric Administration (NOAA), this year marks the fourth consecutive above-normal Atlantic hurricane season.

The 18-named storms for the season were: Andrea, Barry, Chantal, Dorian, Erin, Fernand, Gabrielle, Humberto, Imelda, Jerry, Karen, Lorenzo, Melissa, Nestor, Olga, Pablo, Rebekah and Sebastien.

The three major hurricanes this season were Dorian, Humberto and Lorenzo. Hurricane Dorian as the second strongest hurricane on record in the Atlantic basin in terms of wind (185 mph).