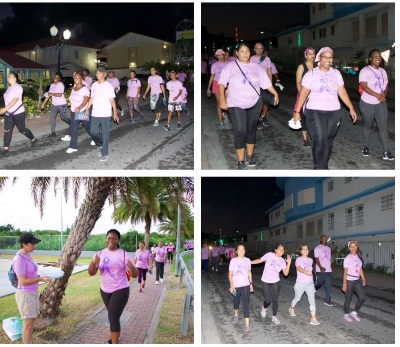 PHILIPSBURG:--- Hundreds stepped up to help raise awareness and funding for cancer care and education on Saturday, October 5th, during the CIBC FirstCaribbean Walk for the Cure, the region's largest cancer fundraiser across the English and Dutch Caribbean.

Numerous advocates of cancer prevention and awareness - Adtalem/American University of the Caribbean School of Medicine, Members of Parliament, Ministers, the Positive Foundation, U 2 Can Move Fitness Program, Sentinel Consulting, Elektralyets Foundation, Caribbean Gems, and many other businesses and residents also took to the pavement for the cause.

An invigorating stretching and warm-up session by U 2 Can Move kicked off the event before the wave of purple moved down Welfare Road, making a complete loop around the lagoon through Simpson Bay and Cole Bay, and made its way back to the bank's Mortgage and Loan Center.

Contributions to the Walk for the Cure can still be made by visiting CIBC FirstCaribbean at their Philipsburg or Cole Bay branch, via the walk's donation drop boxes or CIBC FirstCaribbean Account C/A 10055400.