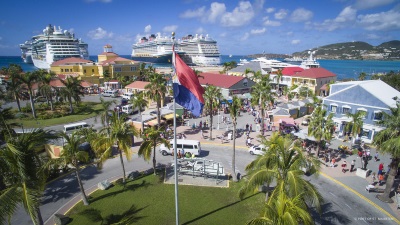 Source out of the BREA report 2017-2018
The news coming from the FCCA that the cruise business will drop sharply by 25-30% is alarming. This has never occurred in the last 20 years at Port even during other hurricane rebounds. What is so surprising is that the FCCA President Michelle Paige confirmed via local paper that the relationship with the Cruiselines has not been transparent anymore and surely has weakened. This news totally contradicts what the Minister of TEATI Stuart Johnson mentioned during an interview on well-known radio station on French Side. Itinerary booking is forecasted 2 years in advance so both Minister and Port officials must have known of this decline and not communicated this. Copy of the report is attached.
Breaking down the numbers from the BREA report it is very alarming, a drop of 25% percentage basically means that the economy will lose 25% of the total Cruise Expenditures of 2017/2018 of
143.23 USD millions, which is a loss for the economy of 35, 8 million USD. More alarming St.Kitts has surpassed St.Maarten.
Secondly, job loss 25% loss will translate into additional job loss of 875 persons, and 25% of the taxis will be out of work. A significant drop in the cruise business will also impact crime levels.
It basically means that the Cruise Customer index has also been an issue, St.Maarten has dropped in cruise passenger expenditure again due to Irma but that cannot be used anymore, St.Maarten has dropped out of the Top 10. Previous years that was top 3, the impression which was created that all is good is totally not the case. In 2017/2018 the met/or exceed expectation was 87% however with this number St.Maarten has dropped way off, in 2015 this number was 94%. These numbers impact the itinerary bookings directly as cruise lines use these statistics to book their calls.
The amount of passengers coming to shore has also dropped drastically to 784,200. This number in previous years was more in the area of 90-95%. The crew visiting the shores to St.Maarten is still very stable but expenditure is down.
Again what is alarming is that during the state of affairs at Parliament a different picture was given.
Click here to read BREA Cruise Analysis.