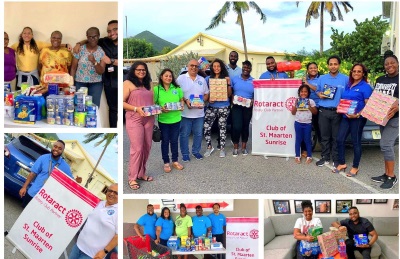 PHILIPSBURG:--- On Saturday, September 14, 2019, the Rotaract Club Of Sxm Sunrise did it again with their annual HAM (Hurricane Awareness Mission) event.
The Rotaract club of SXM Sunrise has been doing this event for quite some time. The annual yearly event is from the beginning of the peek of the hurricane season which runs from August-November.
The club's objective mission is to collect non-perishable items from supermarket customers to donate to different organizations such as K1 Britannia , COMM Center, & Red Cross just to name a few.

This year President Flanders long side his members decided to collect monetary funds to donate to their district brothers and sisters of district 7020 "The Bahamas" after devasting hurricane Dorian striked them early September of this year. It was not only a hard impact on the world but a harder inpact on district 7020.

The club thanks all the shoppers that donated monetary funds that will be sent to our district bothers and sister in Bahamas, & they also thanks the shoppers that donated non- perishable items so that they can donate them to the different organizations, they also thanks their mother club Rotary Sunrise President Prakash "Peter" Dialani and his team for gathering a great amount of non perishable items also to help donate for this great cause, a special thanks to lawyer "Brenda Brooks" for donating a cart full of non- perishable items to them also on Saturday.

The club would like to remind the general public that this event runs from August-November and on every first Saturday of the month they will be at a different location until the hurricane season is over.

Their next HAM event is on October 5th, 2019 at Cost U Less.