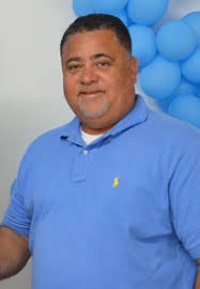 PHILIPSBURG:--- The TBO team arrested Member of Parliament and leader of the United St Maarten Peoples Party (USP) Frans Richardson on Monday morning, Richardson is suspected of abusing his power, bribery, and forgery. Details on this new investigation are not immediately available.
Sources say MP Richardson was on his way to Philipsburg when he was stopped by members of the RST and TBO team on Pondfill Road. The source said MP Richardson was speaking to the detectives when they stopped him and moments after he was placed under arrest.
On February 14th, 2018, MP Richardson was arrested as a suspect in the Squid and Emerald investigations. At the time the TBO and RST were busy conducting investigations regarding the Port of St. Maarten. Richardson spent 10 days in pretrial detention as he was suspected of fraud and corruption
Richardson was also suspected of participating in a criminal organization aimed at recruiting votes.
On February 13, 2018, a search was conducted at the MP's home in Sucker Garden while on February 14th his residence on the French side was searched. Detectives seized data carriers and other administration.
However, the TBO team is not releasing much information the arrest on Monday except to say he is suspected of fraud, bribery and abusing of his power. It should be noted that the MP could only be arrested in the same case if new evidence surfaced.
Spokesman for the TBO Roderick Gouverneur confirmed that a Member of Parliament was arrested but said no information on the ongoing investigation cannot be released at this time.
Richardson attended the Parlatino meetings held in Guatemala and just returned to the island on Sunday.
TBO Press Release on the arrest of MP Richardson.
Today, Monday, September 2, 2019, the Anti-corruption taskforce detained a Member of Parliament on Sint Maarten. He is suspected of accepting bribes, (co-) committing official coercion and abusing his position. The suspect was arrested in the past on suspicion of comparable facts in connection with another investigation.
The Anti-corruption Taskforce (TBO), specializes in tackling corruption and undermining financial economic crime. Among other things, the team investigates fraud, forgery and money laundering.
TBO Press Release.