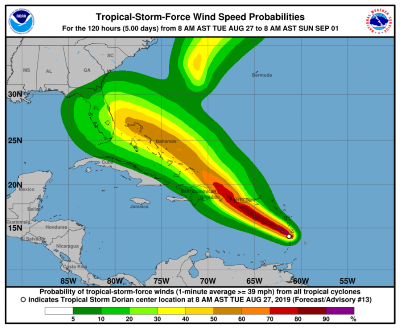 PHILIPSBURG (DCOMM):---The Meteorological Department of Sint Maarten (MDS) said on Tuesday in a Special Weather Bulletin that Tropical Storm Dorian is projected to pass approximately 175 miles southwest of the country early Wednesday.

Due to the fact that the storm poses no significant threat to the country, the Emergency Operations Center (EOC) meeting that was planned for late Tuesday afternoon was cancelled, the Fire Department/Office of Disaster Management (ODM) said on Tuesday.

The MDS says that showers, thunderstorms and gusty winds are possible from the outer bands of Tropical Storm Dorian as it continues to make its track across the eastern Caribbean Sea towards Puerto Rico and the Dominican Republic.

Dorian is the fourth named storm of the 2019 Atlantic hurricane season. The Office of Disaster Management is reminding the Sint Maarten community that we are now in the peak period of the 2019 Atlantic hurricane season and everyone is reminded to stay vigilant in the coming weeks.

The community and new residents are urged to learn more about hurricane hazards and how to prepare for a storm/hurricane strike by visiting the Government website: www.sintmaartengov.org/hurricane where you will be able to download your "Hurricane Season Readiness Guide' and "Hurricane Tracking Chart."

Listen to the Government Radio station – 107.9FM - for official information and news before, during and after a hurricane.

For official weather-related information, check out the website of the Meteorological Department of St. Maarten (MDS): www.meteosxm.com

Remember, it only takes one hurricane to make it a bad season. Are You Ready? Be prepared this hurricane season!