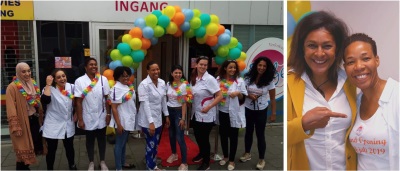 PHILIPSBURG (DCOMM):--- Sint Maarten's very own Nazette Smith opened her expanded obstetric and prenatal care practice in The Hague, Netherlands on Sunday July 14.

Smith started her career path when she embarked on studying midwifery, a profession she holds dear to her heart from a very young age, after completing her secondary education at the Milton Peters College (MPC).

As an Obstetrician and having been accredited as a Life Coach, she has taken the leap to expand her practice. A dedicated Sint Maartener, who loves and lives for her profession, a listening ear and a person of sound advice has made her mark.

Smith endeavors as a female entrepreneur in The Hague has not gone unnoticed as the care being provided spans throughout the city.

Minister Plenipotentiary, Jorien Wuite, in an invited comment noted the following, "The life of an entrepreneur in the Netherlands is in no way an easy road, but through perseverance, with a clear goal and the right attitude, nothing is impossible.

"Nazette has proven this and I am ecstatic with her accomplishment together with her dedicated staff and team. Sint Maarten is proud of her accomplishment as she definitely serves as a role model to many."

Minister Wuite presented Smith with a gift and recognized and congratulated her for her accomplishments thus far.

Owning and operating an all-round clinic which caters to prenatal care, midwifery, sonogram and post -natal care for both expecting mothers, mothers and babies, based on a holistic approach, was always the dream of Smith. With her expanded clinic she now provides a broader scope of services.

Smith is being lauded for not only her professionalism, but also for her dedication and care for the wellbeing of both the mother and unborn child and now also for the post-natal care of both.
In an invited comment patients have described Smith and her fellow practitioners in the clinic as follows:

"A great team of professional and involved obstetricians who think along and do everything to make you feel at home in every situation!"

"A nice relaxed practice where nothing is too much or no question is strange. I went here for both children and everything went well you can always go if you don't trust it."

"Nazette is a friendly good woman to discuss everything with! Due to medical reasons (caesarean sections) she unfortunately did not reach my children, but she definitely gave me a nice support during the pregnancy! I always felt at ease with her and understood. Thank you so much."

"Although I went to the midwife late, I had a good guidance at the practice, guidance / assistant during delivery was good and maternity care was also fine. if I ever get pregnant again. I would opt for this obstetric practice. I also recommend it to other people."

The clinic is located at the Televisiestraat 246, The Hague, Netherlands 2525 LV. For further information of the services one can contact the clinic at telephone number: 070 767 0086, or visit the website: www.verloskundigepraktijklife.nl/contact. The opening hours are 9:00 AM - 3:00 PM.