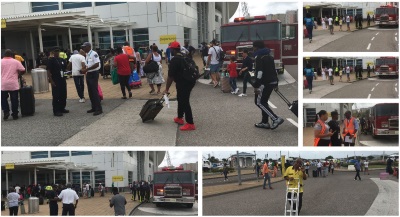 ~ Passengers will be allowed back in building once Fire Chief clear building.~
PHILIPSBURG:--- Passengers and all persons inside the Princess Juliana International Airport had to be evacuated after a smoke alarm went off. Chief Executive Officer (CEO) Brian Mingo said the building had to be cleared which is based on security procedures. He said currently the building is being swept to ensure there is no fire start up inside the terminal building. He said once the building is cleared passengers and other persons operating at PJIAE will be allowed to reenter the building to board their respective flights.
Operations resume to normal, following passenger evacuation due to smoke detection
Passengers were requested to evacuate the terminal building, due to the wide-ranging sound of the evacuation notice on Tuesday, July 9, 2019, at approximately 14:50 pm.
Following reports of smoke which engulfed the Departure Screening Area, the Security Central immediately contacted the Airport Rescue and Firefighting Department (ARFF). The Airport Rescue and Firefighting Department immediately dispatched a unit to investigate the report. The Island Government's Fire Department also carried out an assessment of the reported area. The cause of the smoke detection was later determined as an electrical defect to a microwave.
The alarm system was silenced at 14:56 pm, during the ongoing investigation.
An "all clear-code green" was issued at approximately 15:19 pm by the Airport Rescue and Firefighting department, who was also in consultation with the Island Government's Fire department.
As there was no further threat to the building, the passengers were asked to return to the terminal at
15:25pm.
On behalf of the Princess Juliana International Airport (SXM), we apologize for any inconvenience this may have caused.