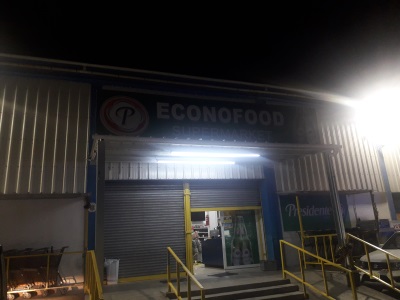 PHILIPSBURG:--- On Thursday, July 4th at approximately 08.00 p.m. two armed robbers stormed into the Econo Food Market located on the Welgelegen road in Cay Hill, with the intention to rob the establishment. While robbing the place an off-duty female police officer who was in the supermarket at the time saw what was going on. She immediately pulled her service firearm and confronted both suspects shooting both of them.
Immediately several police patrols, detectives, Forensic investigators, and paramedics were sent to the scene to investigate what had taken place. The area was immediately cordoned off for the Forensic officers to collect evidence and detectives to speak to potential witnesses.
The suspects were treated on the scene by paramedics and then transported to the Sint Maarten Medical Center for further medical treatment. The identity of the suspects has not yet been established. The investigation is in the preliminary stages and more details are unavailable at this time. As soon as more information becomes available the media will be informed.
KPSM Press Release.
OM SINT MAARTEN/LANDSRECHERCHE:

The National Detectives (LR) are currently investigating a shooting as a result of an attempted robbery of the Econofood Supermarket in Cay Hill on July 4th, 2019. The investigation has not been concluded, however based on the available evidence there is reason to assume that the police officer was compelled to act according to the law. The injured robbers were transported to the Sint Maarten Medical Center for treatment, however one of the suspects later succumbed to the injuries incurred.